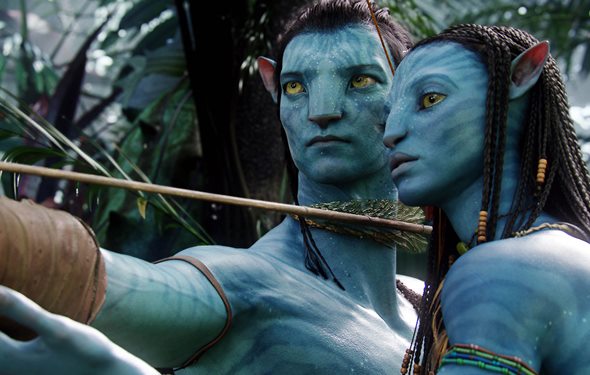 "Avatar" is one of the biggest movies of all time, and James Cameron has been trying to get the sequel out since shortly after the first film was released. However, that was back in 2009, and the next film will not see theater screens until 2016. That is a full seven year wait for the film. Cameron had a vision for this story, and he waited until it could be told right. When everything is finished in the "Avatar" world, the franchise will consist of four films, and the next three will be filmed together over a nine month period. There are new details out on the franchise this month. One does have to wonder though – will fans still head to theaters in 2016?
What is known about "Avatar" right now? This month, it was revealed that both Zoe Saldana and Sam Worthington would return for the new films. They starred as Na'Vi Neytiri and Jake Sully in the original film. Saldana is set to star in all three of the new films, and she knew of her involvement last fall. The news was just revealed to the public recently. The actress also revealed that the scripts for the films have not yet been completed. Cameron hired three different script writers. Each writer is in charge of one film. Zoe Saldana said the following about the story being told, according to Movie Web:
"I went down to the studio that they've been setting up for the past three years. It was wonderful. Jim took us and gave us a tour of all the reference pictures, telling us the stories. I haven't been able to read the scripts. They're still working on them. We kind of get choked up. Cameron gets emotional telling us about the story. I get emotional hearing about it, so I'm looking forward to it."
What will the plot of the next three films surround? Not much is known right now, but Playlist did reveal that Jake and Neytiri will have children. Fans will also see the return of Stephan Lang. Cameron has kept the rest of the details under wraps, and it will likely stay that way until the films head into production. An exact date for start of production has not yet been set.
It is safe to say "Avatar" is still relevant now. Disney broke ground on an "Avatar" related attraction at their Animal Kingdom park in Orlando earlier this month, according to Orlando Sentinel. This attraction is being teased as not like anything else seen at any Disney park. The attraction will open in 2017.
James Cameron has been working on this new film for the last three years, and he has also been fighting a legal battle over the story that long as well. He just won a court case, according to TMZ. Does this mean production will move forward at a quicker pace? It is possible. However, the film is still set for release in 2016, and the next two films will follow that release. "Avatar" was such a huge movie that fans might gladly wait for the next three films.
Cameron is looking to tell the best story he can, but he also takes care in the looks of the film as well. He wants the visuals to match up with his vision. Cameron has always been known as a perfectionist. There is no doubt he will do his best here to put the best film he can out. With the confirmation of the cast returning, the lawsuit tossed out, and the scripts heading toward completion, work is still being done. The wait is what might kill this film, but it is often said good things come to those that wait.
What do you think? Will you be headed to your local theater to see "Avatar 2" in 2016?