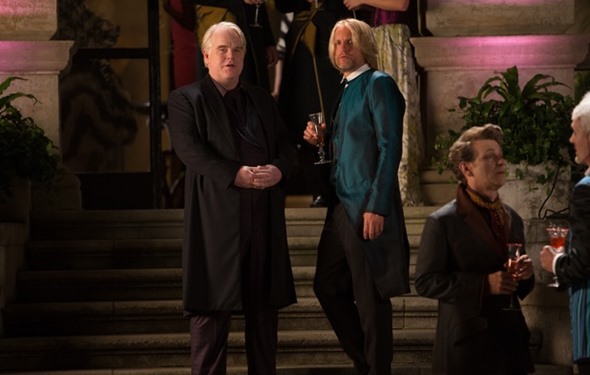 Hollywood has lost another actor. This is the first major death to hit the Hollywood film scene in 2014. Phillip Seymour Hoffman was found dead in his apartment on Sunday, Feb. 2, according to CNN. He was found by a friend at around 11am EST that morning when he failed to arrive at the home of his ex-partner. He was set to spend time with his three kids that day. Police found drugs on the scene, and an autopsy is going to be conducted, but the alleged cause of death is a drug overdose. He had battled a drug addiction for several years. This death by drug overdose is the second in the last year. "Glee" star Cory Monteith was found in his hotel room on July 13, and his death was also caused by drugs. Hoffman's family said the following in a statement after his death:
We are devastated by the loss of our beloved Phil and appreciate the outpouring of love and support we have received from everyone. This is a tragic and sudden loss and we ask that you respect our privacy during this time of grieving.
Phillip Seymour Hoffman was a busy actor, and he had projects in the works at the time of his death. One of those projects is "Mockingjay 2," which is the last film in the "The Hunger Games" franchise. He had appeared in "Catching Fire" as head gamemaker Plutarch Heavensbee. Will his death have an impact on production of the film?
According to IGN, Hoffman had already completed his work on "Mockingjay Part 1" before his death, and he only had seven days of filming left for his role in "Mocking Jay Part 2." His death will not have any impact on the release date of either film. Hoffman also had two other completed films as well, and his death will not impact their release either. He will be seen in "God's Pocket" and "A Most Wanted Man."
On the television side of things, Hoffman was currently working on a series for Showtime. It was set to arrive on the cable network later this year. Production of "Happyish" had not yet wrapped. In fact, scripts were still being written for the series, and Hoffman was very much the center of the series. This would have been his first television role. Showtime has not revealed the fate of the series, but it is likely going to be scrapped completely, according to Deadline. Hoffman was not a bit player on the series, so it would be difficult to work around his death.
Hoffman was not only an actor, but he also had a directing project lined up as well. He was set t work behind the camera on "Ezekiel Moss" featuring Jake Gyllenhaal and Amy Adams. There is no word on that project either. A new director could be found, but it is not clear if that will happen in this case.
Phillip Seymour Hoffman has had many speak out about his kind nature and his great talent since his death over the weekend. He was known for playing more 'dense' and deep characters. One fan that spoke exclusively to this writer remembered Hoffman immediately for his role in "Capote" when news about his death was released. 2014 has already started in sadness for the loss of this actor, and it is only February. He did try to fight his addiction issues, but he was clearly not able to fight them off completely. He spoke candidly about his problems in previous interviews, but all that knew him thought he had successfully won his battle. He was last seen by friends and family on Saturday. No one expected his life would end by the next morning.
What do you think? Are you sad about the death of this actor?