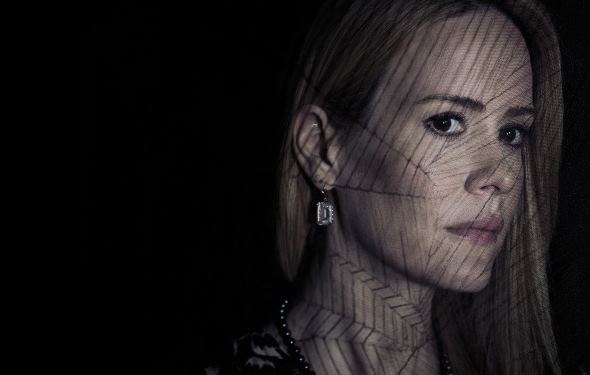 "American Horror Story Coven" wrapped on FX this week, and Ryan Murphy is already hard at work on season four of the anthology series. In fact, he already has ideas for season five as well. This season focused on witches and the selection of their next leader. The plot for next season has been teased, but it has not been fully revealed. What do we know about the upcoming season of this anthology series?
So far, fans have been teased that season four will be set during the 1950s, and Jessica Lange is perfecting her German accent for the role. This will be her final time as the head of this series, so Ryan Murphy is making sure she goes out in a big way. Ryan Murphy has also revealed that Kathy Bates and Angela Bassett will return for next season as well.  
Ryan Murphy is always looking to add to the cast as well, and he has some big names on his wish list, according to Wetpaint. Reese Witherspoon has been approached each season to take on a role, but her film schedule has kept her too busy. Murphy has also wanted Michelle Pfeiffer on series as well. With the departure of Lange after season four, he will need to fill her shoes with someone else as equally powerful and noteworthy. Those shoes will be hard to fill though because Lange has dominated the series the last two seasons.
However, it is Sarah Paulson that has managed to come out the big star on the last two seasons as well. At the end of "Asylum" last year, she survived death and killed her son before he realized it was coming. This season, she ended up leader of the witch coven when it was teased that it would be one of the four young witches left alive at the end. Only two of those witches lived, and one of those witches had to be brought back to life.
A possibility of a spin-off for this season was teased by Ryan Murphy, and the finale could be used as a setup for it, but a spin-off will not happen. Murphy nixed the idea almost as soon as it was discussed, and Paulson is ready to move on to next season as well. She said the following, according to From Inside The Box:
"I think I'm done with Cordelia. I'm ready to see what's next. … I'd rather roll the dice and see what's going to come for me next year than play a character I've played. Although I didn't feel that after I played Lana Winters, I will say that. I would've loved to play Lana Winters for the rest of my life, but with Cordelia I felt like it came to a very beautiful, full circle place. I was ready to say goodbye when it was time to say goodbye."
Ryan Murphy has not revealed the exact plot for season four, but he did tease that fans will see clues in the final episodes of "Coven" on FX. Hollywood Life picked up on one of those clues from the finale. Myrtle screams out something when she is burned at the stake, and there is no explanation for her shout. She screamed 'Balenciaga!' as her final word, and that would connect to Brigitte Höss. She escaped from Nazi Germany back in the 1950s, and her father was commandant of Auschwitz.
If Murphy is taking on this story for next season, fans will have to wait to find out. Some clues and more details should come to light in the weeks ahead. For now, he has just teased to Huffington Post that the season will be 'challenging.' He also called it 'crazy' and 'gothic.'
What did you think of this season of "American Horror Story" on FX? Are you ready for season four?