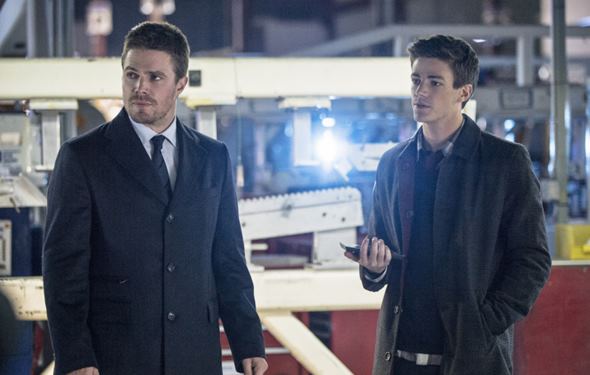 Another superhero series is coming to CW soon, and this series will bring back to life The Flash. CW has already started to create a new life for the character on the network, and a spin-off series has been planned since last year. Fans received their first glimpse of Barry Allen on "Arrow" back in December. He arrived in Starling City to investigate something that might be connected to an event in his own life. After his time in Starling City ended, he returned home. It was after his return that his life changed forever. He was hit by lightning in the mid-season finale, and it will be this event that will give him his new powers. He does have a continued connection to "Arrow" on CW, but this series will try to make its own name for itself.
"Arrow" became a huge hit for CW as soon as the series arrived. Oliver Queen had appeared on "Smallville" for several seasons, but the new series took a completely different direction for Queen and his alter ego. Stephen Amell earned fans for his portrayal. His looks and body might have been the first reason viewers tuned in, but the series soon proved there was more than Oliver's good looks involved. There was a story to be told, and the series was soon picked up for a second season. It has brought new life to the CW Wednesday night line-up, and a third season has been almost guaranteed by the network. It has just not been officially announced yet.
The CW is hoping to do the same with Barry Allen and The Flash. Grant Gustin has been cast in the role of Allen. He recently appeared on "Glee" on Fox. More casting news has come to light in recent days as well. Gustin will be joined by Rick Cosnett from "The Vampire Diaries" on CW and Jesse L. Martin from "Smash" on NBC. Martin will play a father figure to Allen, and Cosnett will play a villain on the series. This series is not set to air until fall, so more news about the cast should come to light in the weeks to come.
The series is coming from the same team that brought "Arrow" to life, so that is good news for this series. The team of Greg Berlant and Andrew Kreisberg will write the script for the first episode of the series. This pair managed to create an entirely new life for Oliver Queen. Viewers wanted to tune in to watch his life unfold, and CW is hoping the same will happen with Barry Allen. "Arrow" is nothing like "Smallvile" at all. "The Flash" should follow that trend.
Even with CW taking on more superheroes, the network has avoided a new "Wonder Woman" series. The potential of a new series has been played around with in recent years, and CW had one in the works. However, the network decided to drop the series earlier this month. The series is not completely dead,  but it would need to be with another idea. "Amazon" was picked up for development back in May, but CW decided to not move forward with that Wonder Woman tale. If the right idea came along, Mark Pedowitz would be open to it.
Superheroes do seem to be hot right now, and they seem to live best on CW. "Marvel Agents of Shield" had a slow start on ABC, but it is still going. Fans do have to wait a few months for the arrival of Barry Allen on CW. Right now, his character is in a coma, but he should wake up with his new powers this fall.
What do you think? Will you be watching "The Flash" on CW?