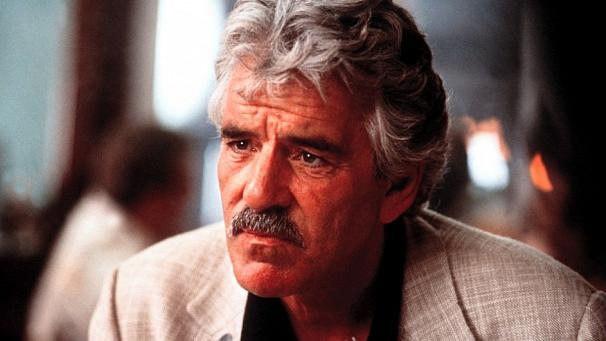 Sometimes an actor dies and you shrug your shoulders when you hear the name. Then you see their face, and you're overwhelmed with sadness because you're suddenly made aware that a great actor has died. One where you knew the face, but not always the name.
Dennis Farina was one of those actors. To the average movie fan, he wasn't a star, and neither did he have the Hollywood looks of other leading men who might be getting some grey hairs but still get the big roles and the ladies swooning. What he did have was charisma and integrity in spades, and it is incredibly sad that he has died at the age of 69, after developing a blood clot on his lung.
Here are some tributes found around the web from actors and filmmakers who have worked with Farina over the years:
John Cusack: "[He was a] great guy and a real Chicago character"

Zooey Deschanel: "[I was] lucky to have witnessed his charm and brilliance"

Denis Leary: "[He was a] good cop, [a] great actor [and an] even better human being"
There are some actors who you just can't help but love, even if the characters they play are the most unlovable characters to ever hit the screen. Farina often played aggressive, violent, tough guy roles, but you couldn't help but like them all the same.
Take Ray Barboni from 1995's Get Shorty, for example. John Travolta doesn't stand a chance with the scene-stealing genius of Farina's Miami crime boss. Travolta was riding high after starring in Tarantino's Pulp Fiction, but Farina steals the show from under him. Never has swearing and violent threats sounded so much like poetry.
The same can be said for his portrayal of Cousin Avi in Guy Ritchie's transatlantic gangster flick Snatch from 2000. The big names of Brad Pitt and Benicio Del Toro were a great scoop for Ritchie, who had only made one film (Lock Stock and Two Smoking Barrels) at the point. Farina (and Alan Ford as the monstrous Brick Top) helps to steal the film away from them, with such classics as "shut up and sit down you big bald ****" and many other sweary classics.
There aren't many actors who could say (although Farina probably would never have said it) that they upstaged Travolta, Pitt, Clooney and De Niro (in 1998's classic Midnight Run) in their careers, but Dennis Farina was one of them. A true cult idol who will be honoured in hundreds of YouTube videos for years to come.
As great as he is in the tough guy roles on the wrong side of the law, he was a regular on the cop show and film circuit too, having been a cop in Chicago for over 18 years until he turned to acting at the relatively advanced age of 37. He slipped perfectly into the role of Jennifer Lopez's retired cop father in Out of Sight in 1998 and was in Law and Order from 2004-06, and Michael Mann cast him in his TV show Crime Story, then in 1986's Manhunter as FBI boss Jack Crawford, the man who reunites Hannibal Lector with the man who caught him, Will Graham, in order to catch the serial killer known as The Tooth Fairy.
His most recent role of note is in Zooey Deschanel's New Girl, where he played the character of Walt Miller, Nick's Dad. The quirky comedy series was a perfect fit for Farina's grizzled charms, and the character of Walt was a fun alternative to the tough guy roles, even if he was still playing a con artist who tried to screw over Deschanel's naive and trusting Jess. That's why people loved Farina though, he made the unlikeable likeable. No easy feat unless you're a great actor, which he was.
He will be missed.
RIP.