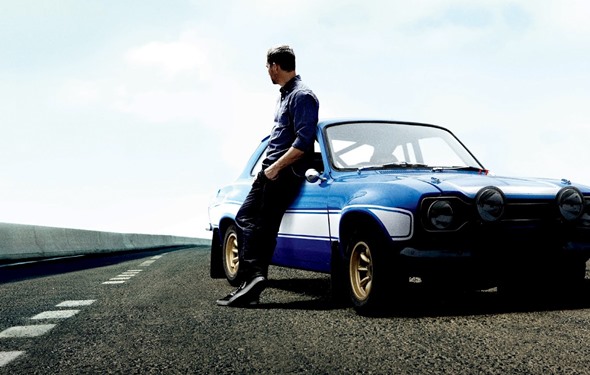 Paul Walker's tragic death is still being mourned in Hollywood, but Universal is already trying to figure out how to handle his last film. Production was set to begin again on the film after the Thanksgiving holiday. He died on the Saturday after Thanksgiving. When news of his death was first released, it wasn't clear if filming had been completed on the project yet. Many fans wondered if the film would even be released after his death.  It will be released, but it is now known that the project is still unfinished. This means decisions and changes will need to be made by Universal, the cast, and the crew. How do they handle the death of this actor? How do they handle the death in a way that pays tribute to Paul's memory and keeps his work alive?
Those questions are now being asked by many. Those that worked closely with Walker have been devastated by his death. Both Tyrese Gibson and Vin Diesel visited the crash site following Walker's death. Us Weekly shared video of Tyrese at the scene, and he was too emotional to even speak to the fans that were at the site. Universal is now giving the cast and those involved with the project time to grieve their loss. Universal called a halt to production on the film, according to Us Weekly. A statement said the following:
"Right now, all of us at Universal are dedicated to providing support to Paul's immediate family and our extended Fast & Furious family of cast, crew and filmmakers. At this time we feel it is our responsibility to shut down production on Fast & Furious 7 for a period of time so we can assess all options available to move forward with the franchise."
Will this delay the release of the film? At this time, that is not known. The film was rushed into production before "Fast and Furious 6" was even released earlier this summer. Production on the film was started in September, and it is currently set for a July 2014 release. The plot of the film shows Dom and his team trying to avenge the murder of one of their own. A scene from the new film has been teased, and it is a funeral scene. In an ironic twist, the scene leaked online just the day before Walker's death.
Speculation has already begun on what will be done about the unfinished film. According to Hollywood Life, one source has said that Brian might be killed off in the film. Walker was set to film more key scenes when production resumed, so the footage already completed could be used and his death could be written into the script. That is one possible direction, and it would save the franchise and allow it to continue.
Universal was definitely behind this franchise though. Paul Walker spoke about Universal's plans for the franchise in an interview just days before his death. According to Den of Geek, Universal had plans for "Fast & Furious" to continue through "Fast 10." It isn't clear if that would happen now. Brian O'Conner was a major part of this film franchise. He appeared in all but one of the films. His lack of appearance in future films would need to be addressed.
As a fan of this franchise since the first film, it is difficult to see this franchise without Walker's involvement.  The death of this actor has hit many hard. Paul Walker had just turned 40 in September, and he was one of Hollywood's naturally good guys. He didn't get into trouble. He tried to help out the planet the best he could, and he was a father to a young teen daughter. She had just moved to live with him in recent weeks. His death was unexpected, and it is leaving fans of the franchise at a loss.
In a year where "Glee" had to deal with the loss of Cory Monteith, it is tragic to lose another way too soon. Not since Heath Ledger and his death before the release of "The Dark Knight" has a film franchise had to figure out how to deal with such a huge loss in the middle of production. That film went on to break records at the box office.  "Dallas" had to deal with Larry Hagman's in the middle of season two production, and that series used his real life death to send off the character and create plot for the series. That was not the first time the series had pulled out a 'Who Shot J.R.' tactic though. This is a very different situation. No one saw the death of Paul Walker coming. He was not ill. He was a man going out for a drive with his friend. The tragedy that followed came out of nowhere.
Will "Fast and Furious 7" survive the death of Paul Walker? That will be found out once the film is released. For now, fans can pick up "Fast and Furious 6" on DVD on Dec. 10. Universal is now donating some of the proceeds from the DVD sales to Walker's charity organization. He was at an event for Reach Out Worldwide on the day he died.
This story is still very much developing. Universal has promised to keep fans of the franchise in the know about what will happen to the project. Any new news on the future of this franchise will be updated once it is officially released by Universal.