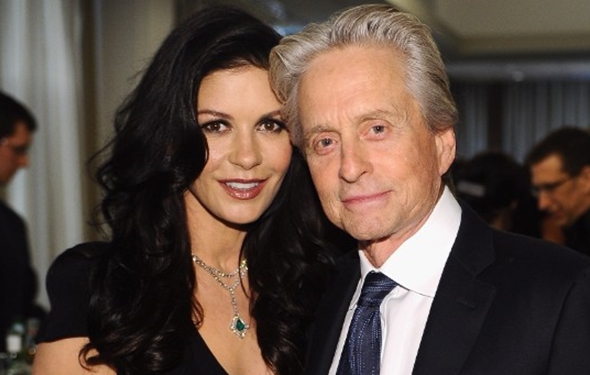 One of the most well-known and most loved couples in Hollywood, Catherina Zeta-Jones and Michael Douglas, may soon be calling it quits. This came as a shock to most since they have been together for over 13 years. This information was brought to light by E! News after it was made public that the two were no longer living together.
A representative for Catherine Zeta-Jones said that the actress and Michael Douglas are taking a little time apart. During this time they are going to evaluate and work on their marriage. The representative finished up by saying that this is all they can announce for now.
Although the two seem to be on the outs, it is important to note that the two have not filed for divorce as of yet. So far, no kind of formal documentation has been filed. However, it is apparent that the two are having troubles of some kind. After all, the couple has not been photographed together since back on April 22. The two then decided to take a little time apart after Michael returned from the Cannes Film Festival in May. It was there that he screened the film "Behind the Candelabra."
For those who do not remember, Catherine and Michael had, what can only be described as, a fairy tale wedding. It took place at the Manhattan Plaza Hotel back in 2000. When it was announced, the media went crazy, and they graced the cover of every magazine.
So now the question is: Why are they ending things now? Sources close to the two say that their marriage has become very strained due to hardships suffered by both parties. Back in 2010, Douglas was finally able to beat the throat cancer that he had been battling for a long time. Catherine has been struggling with bipolar disorder for many years. She even had to seek treatment for it twice. She got help once in 2011 and again in April of this year.
Of course, the real problem could be due to a comment that Michael told the Guardian when talking about his throat cancer. He believes that his cancer was caused by HPV, also known as human papilloma virus. He said that he received HPV from oral sex.
The big difference in age cannot help either. Douglas is starting to show his age at 68 and has been seen spending some downtime on his yacht. Catherine still looks great for being 43. She has been spending time in New York at their main home. Catherine and Douglas also walked the red carpet alone for the first time in years when screening their most recent films. Catherine did take a holiday to Canada recently with their two kids, and Douglas was nowhere to be seen.
Despite all of this, the two are hoping to patch it up. Apparently, Catherine really loves Douglas and wants to work things out. She does not think that anything could stop her from loving him. Douglas and her also both want what is best for the kids. Only time will tell if these two love birds can rebuild their nest or if it is gone forever.