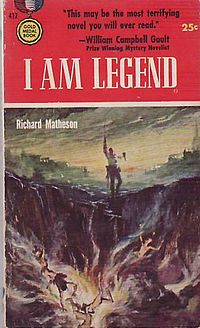 The great author and screenwriter Richard Matheson passed away on the 23rd June at the age of 87.
Straight away the tributes came flooding in for a writer who has influenced many generations of authors, comic book writers, screenwriters and filmmakers. If you're unfamiliar with his works, check them out. You won't be disappointed.
The most fun you can have with Matheson's work is spotting all the influences he has had on the film industry – and the arts in general. Back in 1954, when Matheson's post-apocalyptic novel I Am Legend was released, there was simply nothing else like it on the bookshelves.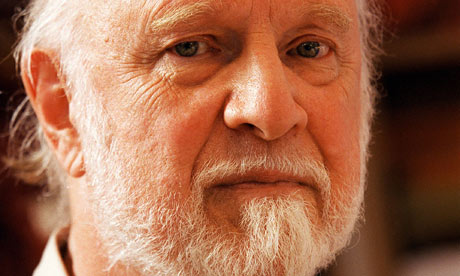 Stephen King and George A Romero – two giants of the horror genre in literature and film respectively – have both cited Matheson as the biggest influence on their work. Romero went one step further than that though. He admitted to lifting the entire premise of I Am Legend for his ground-breaking 1968 horror Night of the Living Dead, something that the two legends discussed when they finally met.
Romero said: "I confessed to him that I basically ripped the idea off from I Am Legend. He forgave me because we didn't make any money. He said, 'Well, as long as you didn't get rich, it's okay.'"
Everybody remembers Romero as the king of the zombie genre, a genre that shows no signs of slowing down and has spawned the likes of Shaun of the Dead, Zombieland, The Walking Dead and the recent blockbuster World War Z. But with Richard Matheson setting out the blueprint with I Am Legend, the genre would have died (and remained dead) a long time ago. It is the themes of I Am Legend that gave the genre its depth, and it was these themes that gave all Matheson's work a quality that other works in the genre just didn't have.
Stephen King once said that without Matheson he would never have become the writer he did, and cited that the way he used genres such as horror sci-fi and rooted them in the real world has a significant influence on his own storytelling. King dedicated his 2006 novel Cell to Matheson as a way of saying Thank You.
Steven Spielberg led the tributes to Matheson when he passed away, citing his Twilight Zone episodes as masterworks of genre fiction:
"Richard Matheson's ironic and iconic imagination created seminal science-fiction stories and gave me my first break when he wrote the short story and screenplay for Duel."
Matheson's work is so great because the premises were so simple that they could be summed up in one line, yet they worked so well and had so much hidden depth, action and suspense. Hollywood loves a great, simple idea, and Spielberg's Duel is a classic example of this. The tagline for the film on the Internet Movie Database reads as follows:
A business commuter is pursued and terrorized by a malevolent driver of a massive tractor-trailer.
It is such a simple idea, but it is made memorable for the sheer non-stop terror it produces because you never see the face of the tormentor, neither does it give you the backstory or a final scene reveal that explains that the driver is doing it because "his Daddy never loved him". Matheson knew that what we don't know is far more terrifying, and that bare-bones storytelling is what endeared him to Hollywood and film and genre fiction fans alike.
Twitter was full with tributes from authors and filmmakers who were influenced and inspired by the great man. Edgar Wright, writer/director of Shaun of the Dead, the graphic novelist and writer Neil Gaiman and writer Steve Niles (who adapted I Am Legend into an amazing graphic novel) all tweeted heartfelt tributes that describe the influence of Matheson better than any list of accomplishments ever could: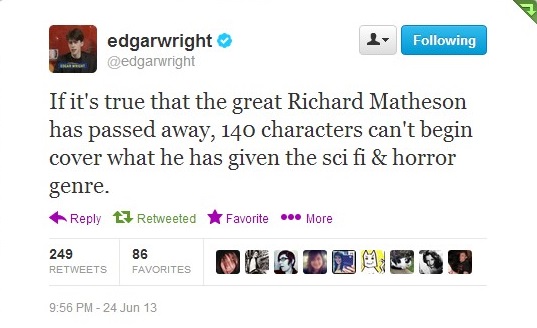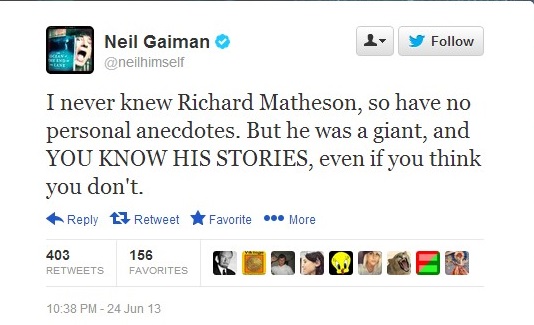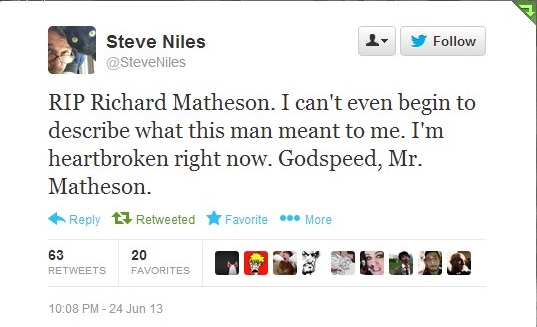 From The Shrinking Man to The Twilight Zone, Hell House to What Dreams May Come, Matheson has had an enormous effect on the world of art, and whether you have read his works or not, his influence is all over the stories you already know. Get to your local bookshop and dig out a copy of one of his works. You'll soon be smiling when you discover you've seen or heard it before. Just remember that Richard Matheson did it first.
RIP.