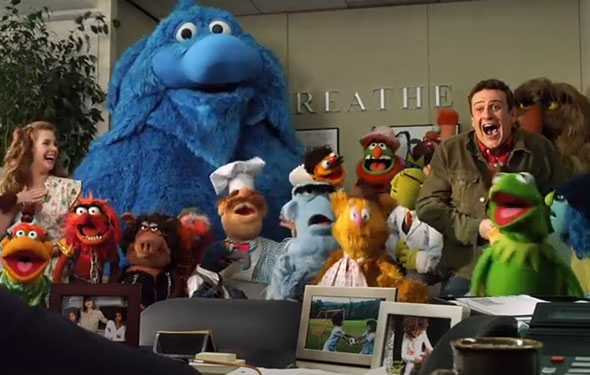 It has been a while since we've seen a good Muppet movie, the last few greats being "Muppets From Space", "Muppet Treasure Island", and "The Muppet Christmas Carol", all of which are full of laughs, big star cameos, and enjoyment for all ages.
Finally, we have a new Muppets movie – and it's coming to theaters on November 23, 2011! Check out the trailer:
Here is the synopsis:
When Walter, the world's biggest Muppet fan, and friends Gary (Jason Segel) and Mary (Amy Adams) discover the nefarious plan of oilman Tex Richman (Chris Cooper) to raze the Muppet Theater, they help Kermit reunite the Muppets to stage The Greatest Muppet Telethon Ever and raise the $10 million needed to save the theater.
And of course, with the help of other big talents such as: Mila Kunis, Zach Galifianakis, Emily Blunt, Danny Trejo, Selena Gomez, Ed Helms, Jack Black, Neil Patrick Harris, Rashida Jones, John Krasinski, Katy Perry, Whoopi Goldberg, and Eric Stonestreet, it's hard not to think that "The Muppets" will be a great ensemble of fun characters and personalities.
All that's left to do now is to brush up on your Muppet movie history, which of course means hopping on Netflix and adding "Muppets From Space", "Muppet Treasure Island", "The Muppet Movie", "The Muppets Take Manhattan" and "The Muppet Christmas Carol" to your queue.
Of course, for all of those out there that may not be aware of what a Muppet actually is (you have to keep up with the classics!), here is a very quick primer:
http://www.youtube.com/watch?v=OhWUjB6C_aI