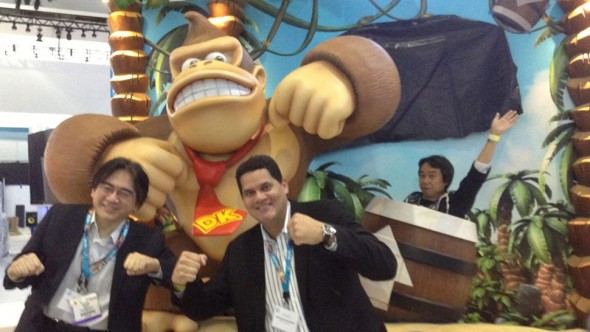 Lately, Nintendo has been in the news a lot. This mostly has to do with the low sales of the Wii U. However, Nintendo does not seem to be worried about the low sales. In fact, the President of Nintendo, Satoru Iwata, seems to think that Nintendo's future is bright. He does not believe that the company needs to make any cost-cutting measures to help boost its profitability.
Iwata does have a point. Just because the Wii U is not selling as well as hoped does not mean that Nintendo is down for the count. Let's not forget that Nintendo still has the 3DS, which is outselling every other console on the market right now. It also has a number of big hits on its hands, most notably is Pokémon X and Y, which have been the best-selling games for a few weeks running now.
On top of all that, the recent bundles that Nintendo has released for the Wii U have proven to be extremely popular. The "Super Mario Bros. U" plus "Super Luigi U" Deluxe Wii U bundle already sold out at Target and GameStop in North America, and this bundle has vastly increased Wii U sales in Japan. In fact, gaming magazine Famitsu reported that the Wii U sold over 40,000 units last week in Japan. This is impressive because it only sold 2,800 the week before. That is a massive increase, and it is all thanks to the Wii U price cut and the launch of these new bundles.
During a recent Q&A session following the announcement of Nintendo's second quarter financial report, Iwata said:
"If you believe that there is no possibility of Nintendo's results improving, then you would be right about it being necessary to review the structure of the workforce and the company itself to match the scale of the business. However, I believe that there are upward and downward swings in the video game business, that Nintendo has the potential to be a larger-scale business, and that in order to achieve that potential, good developers, localization capability, and the ability to sell overseas are necessary.

"We need a company with a lot of muscle, but a company that also has no excess fat–one that makes smart spending decisions. Restructuring the workforce is not the first option we consider even when cost-cutting is required. I would like you to understand that this is because we do not see a dark future for Nintendo."
Things are definitely looking up for Nintendo. Although the Wii U has underperformed so far, it appears that these new bundles and the price cut are really turning things around for the Wii U. Nintendo also has some killer games coming out this holiday season. This includes "Super Mario 3D World." It also has some great games coming out next year, such as "Mario Kart 8" and "Super Smash Bros." It is shaping up to be a strong holiday season for Nintendo. This goes double since the Wii U is $100 cheaper than the PS4 and $200 cheaper than the Xbox One. This makes it an attractive buy this holiday season for consumers who still do not have a lot of extra cash to spend.
[Via GameSpot]