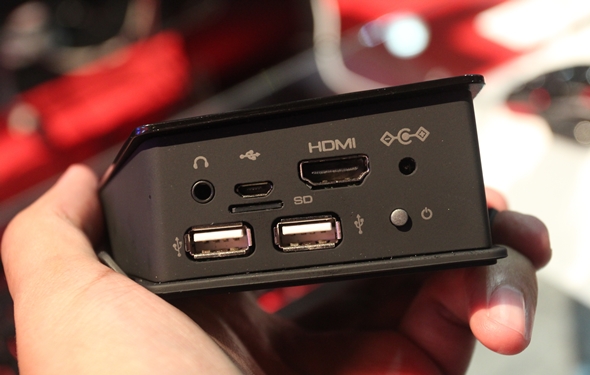 Every few years, you have another company try to enter into the home console race. Lately, however, there has been an increase in the number of people who want to make a home console. First it was the Ouya, and then the Nividia Shield was announced. Steam is also in the process of trying to make a Steam Box that runs its very own Steam operating system. There are even a number of third-party companies looking to make their own versions of the Steam Box. Now, it looks like it is Mad Catz's turn to enter the home console race … with the M.O.J.O.
For those who do not know much about Mad Catz, it has been making third-party accessories for video game companies for years. This includes everything from controllers to protective cases for handheld consoles. Now, it is looking to build a console to compete for a spot on your entertainment center shelves.
Much like the Ouya, the M.O.J.O. will be an Android-based OS console, but it will be a lot more powerful than the Ouya. That being said, this extra power comes at a price. While the Ouya can be yours for just $99, the M.O.J.O is expected to have a retail price of $249.99. That is an extra $150, so the question is, "What do you get for the extra cost?"
According to Mad Catz, the M.O.J.O. will include an Nvidia Tegra 4 T40S 1.8GHz processor. It will also sport 2GB of RAM, HDMI support, and 1080p resolution. Mad Catz wants to market this system as a more "hardcore" way for people to bring their favorite mobile games into their living rooms.
Despite all of this, the major selling point of this console is the fact that it is completely open to all developers. This means that you can get apps from the Amazon Appstore and Google Play right from this console at launch. This expands the number of games that you can download for the M.O.J.O. right away.
The back of the console has all of your basic inputs. It has ports for HDMI, two USB, headphone jack, micro-USB and an SD card. Although Mad Catz has not confirmed it yet, it has been talking about the ability to play PC games on the M.O.J.O. as well, just like with the Nvidia Shield. In short, you could stream PC games right from your PC to your TV via the M.O.J.O. Thanks to the USB ports, the M.O.J.O also supports the installation of a keyboard and mouse.
No word has been given yet as to when the M.O.J.O will be available. However, prototypes are already out and about, and people have seen the console in action. Thus, it will not be much longer before you can get your hands on this system yourself … maybe by this holiday season?