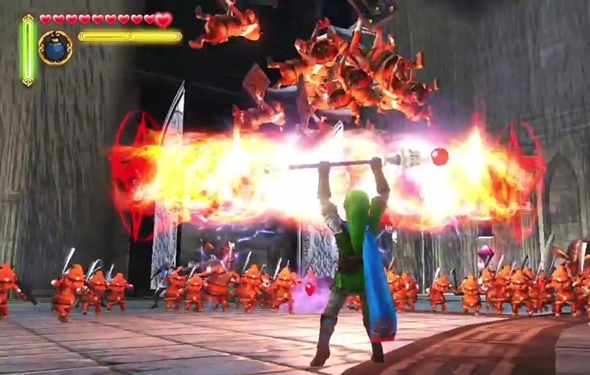 The Wii U had a rough start; there is no doubt about that. However, near the end of 2013, the Wii U started to see an increase in sales. This was, in part, due to it being the holiday season and a lot more people were out shopping. The other part is the fact that the Wii U saw a nice increase in games.
First party hits like "Super Mario 3D World" and "The Legend of Zelda: The Wind Waker HD" helped to boost the console's popularity. Top that off with the fact that the system was getting a steady stream of third-party games such as "Assassin's Creed IV" and "Batman: Arkham Orgains," and it is easy to see why sales started to go up.
However, just because the holiday season is coming to a close, does not mean that sales for the Wii U are going to start suffering again. In fact, we should see sales for the Wii U continue to rise thanks to a great lineup of Wii U games that are scheduled to be released in 2014. This includes both first and third-party games. Here are some of the most popular games coming to the Wii U in 2014:
"Super Smash Bros." – This is a game that could completely turn things around for the Wii U. This is one of Nintendo's biggest franchises, and it is sure to win back some of the hardcore gamers. Top that off with the fact that the game is going to feature cross-platform play with the 3DS, and you have yourself a mega hit.
"Mario Kart 8" – This is another franchise from Nintendo that never fails to please. "Mario Kart 8" is set to feature great online play, new characters and new courses. This is all topped off with a new racing style that will literately see people driving on walls and on the ceiling. Look for this game in Spring of 2014.
"Watch Dogs" – This is one of those titles that was supposed to be released in 2013 on all consoles. However, it got pushed back until 2014. Maybe Nintendo did not want to compete with games this holiday season, such as "Grand Theft Auto V." Whatever the reason, "Watch Dogs" is a 2014 third-party game that is sure to please. This game comes out in the spring of 2014.
"Project CARS" – If you are into realistic racers, you can't go wrong with "Project Cars." This is another third-party title to keep your eyes on in 2014. This one won't hit store shelves until the third quarter of 2014.
"Bayonetta 2" – This is a Wii U exclusive that upset a lot of gamers when they heard that it was only for the Wii U. Either way, this is one of those experiences that you simply cannot find anywhere else. For those who are upset about it only being on the Wii U, remember that if it wasn't for Nintendo funding the game … there would be no "Bayonetta 2."
Hyrule Warriors (name not final) – During the most recent Nintendo Direct, a brand new Zelda game that is being developed with Tecmo Koei, who is well-known for making the Samurai Warrior games, was being showed off. This game brings the Samurai Warrior gameplay style to the Legend of Zelda universe. Needless to say, a lot of people are pretty pumped for this one.
X – From the same team that made "Xenoblade Chronices" on the Wii, here is X. This is another Wii U exclusive that promises to give RPG fans on the Wii U a game that they crave. It will feature huge open environments and the ability to fly and drive around in giant robots. What more could you want!
"Donkey Kong Country: Tropical Freeze" – The Donkey Kong Country series is back! It made its big comeback on the Wii with "Donkey Kong Country Returns." With how successful the game was, Nintendo has wasted no time in releasing another one. Tropical Freeze looks to be everything that Returns was and more.