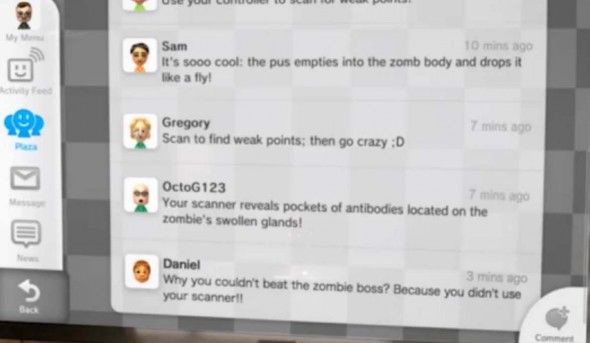 With the Wii U, Nintendo has made a huge push into the digital market. One example of this can be seen with its Miiverse service. Now Nintendo is giving people the option to share Miiverse posts with others on social networking sites like Facebook, Twitter and even Google+.
This new announcement from Nintendo is made possible thanks to the addition of the browser-based version of Miiverse. Here, players can login to Miiverse using their Nintendo Network IDs and view and reply to posts from their favorite Miiverse communities. Nintendo has taken this browser-based version of Miiverse a step further by including buttons to share your favorite posts on other social networking sites.
For now, Miiverse posts can be shared on Facebook, Google+, Twitter and Tumblr. Nintendo has already announced that quick sharing with other social networking sites will be made available in a later update. Either way, this is a very smart move by Nintendo. Although Miiverse has proven to be extremely popular with early Wii U adopters, allowing these community posts to be published on social media sites gives users the ability to share their favorite Nintendo moments with friends who don't have the system.
All that being said, this new Miiverse update is currently limited to the browser-based version of Miiverse only. That means Wii U owners still don't have the ability to share posts with social media sites directly from the Wii U version of Miiverse. There are a number of likely reasons why Nintendo has kept this update from the Wii U version of Miiverse. One of these reasons is due to the fact that sharing with social media sites on the Wii U would direct the user away from Miiverse and to the Wii U internet browser.
For now, it is just great to see that Nintendo continues to support and look for ways to improve Miiverse. It will be interesting to see where the company goes from here. Technology moves fast, and with it, companies must do the same.