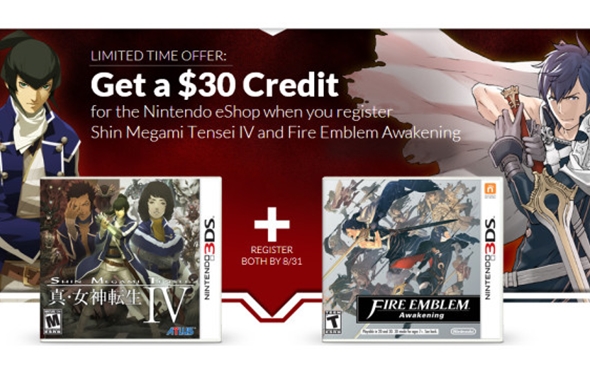 Lately, Nintendo has been on a huge rebound. Its stocks have jumped nearly 4 percent to their highest level since 2011. A lot of this has to do with the huge increase in Wii U systems being sold, thanks to the release of Pikmin 3 in Japan. However, it might also have something to do with the great promotion Nintendo has going right now for 3DS owners. Right now, if you purchase Shin Megami Tensei IV and Fire Emblem Awakening for the 3DS, you will receive a code from Nintendo that is good for $30 in eShop credit. This credit can be applied to your 3DS or your Wii U account.
Qualifying for this credit is extremely easy. First, you have to buy Shin Megami Tensei IV and Fire Emblem Awakening. You also need a Club Nintendo account so you can register these two games online. It does not matter if you purchased Fire Emblem Awakening before this deal or if the games are digital or physical copies. You do, however, after to register both games on Club Nintendo before August 31. If you are buying the games digitally, be sure that your 3DS is linked to your Club Nintendo account.
Once you register these two games on Club Nintendo, you will get a new item in your "to-do" list. You will know that it is the $30 eShop credit because it will say so on the task. Once you click on the task, you will be taken to a survey. After answering a few questions you will get a code that you can use on the 3DS or Wii U eShop. To use the code, simply go to "add funds" and than choose "Pre-paid card." From there, you can just enter the code and enjoy your free $30 in credit.
This offer was a great deal by Nintendo. Both of these games have proven to be popular on the 3DS, so a lot of people have already purchased them. The people who planned to buy these games anyway just got $30 in credit for free. On top of that, it shows that Nintendo is offering support to third-party developers. In this case, Nintendo is offering support to Atlus by including one of its games in this promotion.
One thing is for sure, this deal between Atlus and Nintendo could not come at a better time. Recently, Atlus' parent company in Japan filed for bankruptcy. As a result, it has been said that it might be looking to sell off Atlus to make some money. With all of the support that has been seen between the developer and Nintendo as of late, it would not be shocking to see Nintendo buy up Atlus if the opportunity presents itself. After all, Nintendo included Atlus in this promotion, Atlus brought Shin Megami Tensei IV exclusively to the 3DS, and Nintendo and Atlus are also working together on Fire Emblem X Shin Megami Tensei.
Regardless if Nintendo eventually tries to buy Atlus or some of its franchises, one thing is for sure: This new promotion from Nintendo for $30 in free eShop credit is a great deal. Hopefully we will see more deals like this in the future.