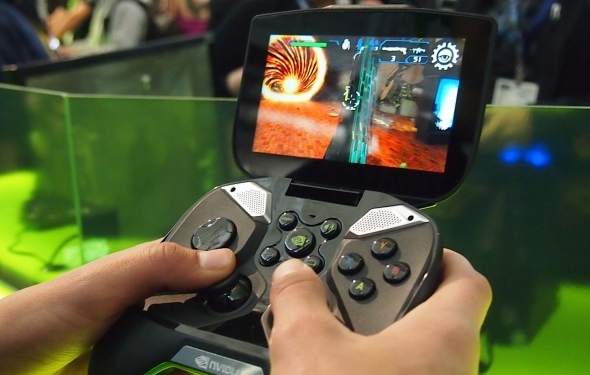 The gaming industry is in the middle of an identity crisis. This has been mostly caused by the addition of mobile gaming which is changing the playing field. No longer are dedicated hand-held gaming devices your only option when playing games on the go. Now people have the option of playing games on their mobile phones and tablets. However, games on mobile phones have always lacked that certain charm that only a dedicated hand-held gaming device can give you. That is likely due to the lack of a controller. Well, Nvidia wants to change the way we view mobile phone games with its Shield portable gaming device.
So what is the Shield? In short, this is a portable gaming device developed by Nvidia. However, unlike other dedicated hand-held gaming devices like the 3DS or PS Vita, Shield plays Android based games. So why would you choose to play Android games on the Shield instead of on your phone? Well, that is because the Shield comes with a built in controller to make it feel more like a traditional gaming device. In short, it is attempting to take Android based gaming to the next level.
Of course, Shield does more then just play Android games. This little hand-held can also stream PC and Steam games right from your PC. In order for this to work, however, your computer needs to have a GeoForce GXT 650 or higher and you need a home Wi-Fi connection. If you meet these requirements, you can then stream from your PC to your Shield portable gaming device via your Wi-Fi home network
Alright, so the streaming PC games to the Shield is cool, but you still have to be at home to use this feature. Thus, when you are on the go, the Shield becomes kind of a bulky device to carry around just to play Android games. To top it off, the Shield originally had a $349.99 price tag. In order to keep it competitive, Nvidia announced that they were dropping the price of the Shield to just $299.99.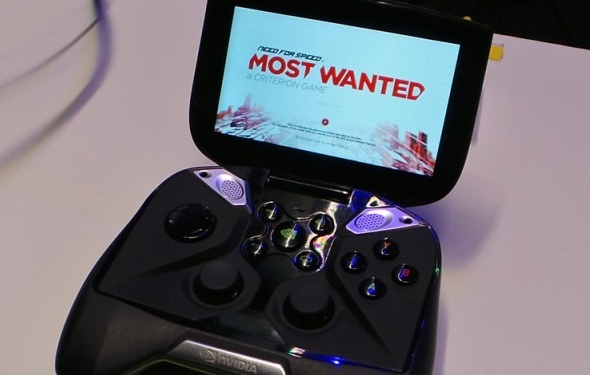 So what do you get when you buy the Shield? You get a device that is powered by Nvidia Tegra 4. The base of the device is a controller with a flip screen on it. The screen itself offers a multi-touch, 5-inch, 720p display. The device also has interrogated speakers and Wi-Fi connectivity. Despite all of this, the device still gives you 20 plus hours of battery life, which is pretty impressive. The Shield comes with its own AC adpater, a USB cable and two free games: Sonic 4 Episode II and Expendable: Rearmed.
The real question about this device is: How well are these Android games going to play on the Shield? After all, most of these mobile games were designed with just multi-touch controls in mind. Sure there are some games that support controller inputs and the Shield does have a screen that supports multi-touch, but is this enough to justify spending $299.99? Well, the vice president of Epic games, Mark Rein, seems to think so … in due time.
When speaking about the Nvidia Shield, Mark Rein said that most mobile games are designed with touch screen controls in mind. It is going to take a bit of time for developers to get used to the idea of controller-based mobile gaming. However, he does feel it is a really fun experience and he hopes to see more games get made specifically with the Nvidia Shield in mind.
The Nvidia Shield has a hard road ahead of it, and while it might be an up hill battle, it is possible that the Shield could open the door for similar devices. After all, the real challenge for mobile gaming is to win over the hearts of hard-core gamers who are currently more interested in dedicated hand-held devices. The Shield is likely going to become a victim of its own size as it is far to bulky for most people to simply carry it around with them on a daily basis. In order for similar devices to fair better, they will need to keep portability in mind. The Shield, thanks to its ability to stream PC games, will likely find its own niche market and enjoy moderate success.
If you are interested in buying the Nvidia Shield, it up for pre-order now for $299.99. The device is set to be released on June 27th.
[via Nvidia Shield]