Because you can always use an excuse to live someone else's life instead of your own.
The Sims 4 was announced back in May, and it looks bigger, better and more customisable than ever.
Clearly, simming has become more than watching your sims eat, work and poop. In The Sims 2, we were offered much more freedom with the ways Sims lived their "lives", the ways they could look, the ways they interacted with things, the jobs they had … just about everything was upgraded, and it was awesome.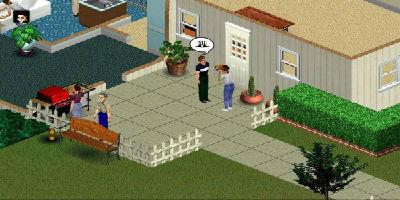 The Sims 3 managed to take the lifestyles and customisation even further. Neighbourhoods were much more worth delving into and navigating through, sims were given a new sense of personality, building was made easier but more elaborate, and you got to have horses as pets, which is clearly the most important new aspect of The Sims 3 (for me, anyway).
So what's in store the fourth time around? How is it possible to build homes differently, make sims more realistic, and bring the experience of virtual life even further than the last three installments?
Well, if you do any investigating at www.thesims.com, you'll see the word "intuitive" used to explain every new aspect of The Sims 4. Intuitive new ways to give your sims life stories, intuitive new building abilities, intuitive new emotional aspects for your sims. But what does it all mean; what does EA have to offer that'll make The Sims 4 worth purchasing? After all, any critic of the game franchise will tell you that they're all really just the same game again and again, that many of the expansions aren't worth your time and could have been included in the initial release. Basically, what's the point on spending your money on virtual life this time around, when we already have our neighbourhoods perfected, our families all planned out for generations to come, and our houses built just the way we imagined them?
Well, obviously the graphics got an upgrade. In all honesty, it does look very pretty, but that also means some people may not be able to play this casual game on a casual computer. It's been promised that lower end PC's would be able to run the game much more smoothly than The Sims 3, which many players had issues with. Here's hoping that promise is kept.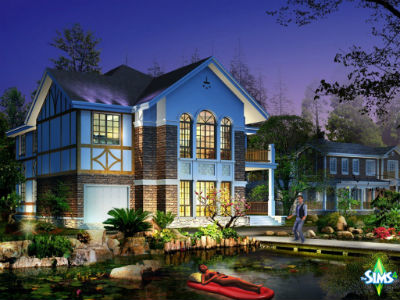 Looking at the media gallery on The Sims' website, it would seem as though there are trains/streetcars in the world now, which means that EA is still going with the whole building a neighbourhood idea from The Sims 3. This was pretty cool, and it really did take the game experience way beyond the level of The Sims 2 (although some Sims 2 expansions were slowly making the switch, allowing Sims to walk to other places with ease), so it's wise to keep the neighbourhood aspect and enhance it. It'll be fun to see how they build on it to make it easier and more interesting to explore an entire town, such as the streetcars that were hinted at in the pictures.
It looks like the controls that were once in a HUD, such as rotating  the camera, are now available at the click of a single mouse button. This is a small, but nice touch, especially if you use a touchpad to play The Sims (because you're a masochist, of course). It's guaranteed to make things easier.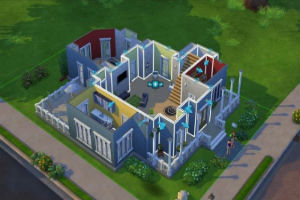 There isn't a whole lot revealed yet, but one could assume that if they're changing one aspect of the controls, which could always be a little clunky for a real-time game, they're likely to give them quite the overhaul. Especially because there's a lot more easy-clicking when it comes to changing the world you're simming in now – don't like a room? Pick it up and move it somewhere else. Things like that make building seem easier and more enjoyable.
Making a sim is now super, super, SUPER customisable. Every single dimension of basically every part of a sim's body – its hips, its legs, its shoulders, even – is pretty much stretchable. You can change the tiniest, most subtle things about a sim, so that it can look just like you … or just like how you've always wanted to look. This is the same for the face – make cheekbones high, make foreheads wide, make eyes small – the possibilities are actually, literally endless this time around. This is all done by clicking directly on the sim this time, which makes it easier and more efficient to create a sim. Things are looking really optimistic, as far as making the ideal sim goes.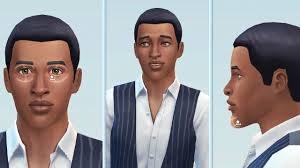 Characteristics have also gotten an upgrade.  Emotions have been added for whole new levels of gameplay to simming. A sim could be sad for a while, or happy to experience something in their lives, much like real life.
Overall, this actually looks like an upgrade worth purchasing. Everything seems to have changed for the better, so far. Maybe they didn't overuse the word "intuitive" after all.