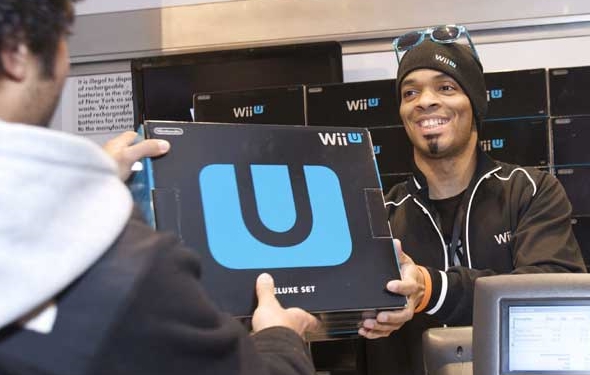 In America, games that are bundled with the Wii U, such as "The Legend of Zelda: Wind Waker HD" and "New Super Mario Bros. U," have really helped to increase sales. The Wind Waker bundle increased sales a little bit, but the Wii U bundle with "New Super Mario Bros. U" and "New Super Luigi U" increased sales a bunch. Of course, none of these bundles really took off in Japan. Now, however, there is a new bundle that was released in Japan, and it has increased Wii U sales by 1,500 percent! This new bundle is the "Wii Party U" bundle.
According to Japanese video game sales tracker Media Create, Wii U sales rocketed up to 39,000 last week. This is up from the 2,500 Wii U systems that were sold in Japan the week before. In short, this made the Wii U the second best-selling video game system in Japan after another Nintendo system, the 3DS LL (known as the 3DS XL here in America).
So why is this bundle selling so well? Well, it comes with a Wii U Deluxe system for starters. It also comes with a "Wii Party U," which comes with a Wii Remote Plus and "New Super Mario Bros. U." This is all topped off with a 30-day free trial of "Wii Karaoke U." Thus, you are getting the system, two games, a Wii Remote Plus and a 30-day trail of another game for just $299. This is a pretty good bundle for Japan.
One thing is for sure, it is going to be a great holiday season for Nintendo. Wii U sales are already starting to pick up, and the big sales rush before the holidays has not even hit yet. With a number of great bundles out this year and a lineup of great games coming out, the Wii U has a real chance to sell a massive number of units. Some of the games that are likely to be big sellers for the Wii U this year include "Super Mario 3D World," "Batman Arkham Origins" and "Assassin's Creed 4: Black Flag."
On the 3DS side of things, Nintendo has some great games coming out as well. This includes "Mario Party: Island Tour" and "The Legend of Zelda: A Link Between Worlds." Nintendo is even launching a special 3DS XL that is gold and black to go with A Link Between Worlds. It should also be noted that this will be the first holiday with the 2DS available, while sales for Pokémon are likely to continue right through the holidays.