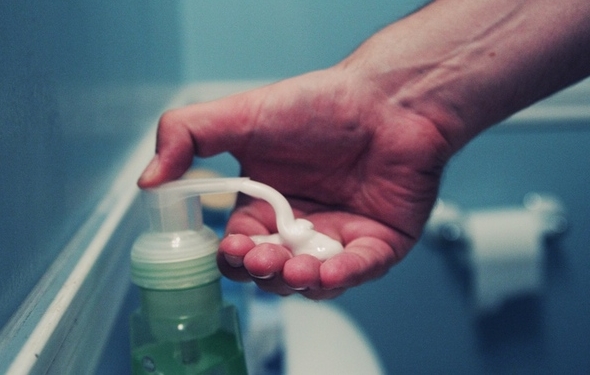 Do you use antibacterial soaps? If so, you may be putting yourself at risk and not even know it. The Food and Drug Administration gave a public statement on Monday, saying that it is requiring all manufactures that make antibacterial soaps to demonstrate that their products are safe after long-term use. If they are not, they will be forced to reformulate their products.
Antibacterial soaps have been around for years, so why the sudden crackdown? According to new research, the long-term use of antibacterial soaps may cause health risks. This is because there are certain ingredients in these soaps, such as triclocarban and Triclosan, that give the soap antimicrobial qualities. This kind of soap can cause bacterial resistance overtime and even cause hormonal effects. These same ingredients can also be found in soap that has been labeled as deodorant.
The FDA says that this is extremely worrying because millions of Americans use these products on a daily basis. Now there is scientific evidence that suggests that these soaps may put people at risk. These products need to be re-evaulated right away and should not be given to Americans if they are not safe.
It is important to note that this new ruling does not require companies to pull their soaps off the market right away. Manufacturers will, however, have to conduct some new clinical studies that show how their soaps affect long-term health. If the soaps are found not to be safe, then the manufacturers will need to change the active ingredients before they can put the products back on the market.
This new ruling is not open for public comments just yet. People who want to give their two cents on the matter will have to wait 180 days. The manufacturers of antibacterial soaps will have just one year to submit the research data and information that they come up with.
The director of the FDA, Dr. Janet Woodcook, said that there are some consumers that have extensive exposure to the ingredients in these antibacterial soaps. The agency believes that there should be a very clear and demonstrated benefit for using antibacterial soaps. If there is not, then it cannot recommend such products being used because there is a potential health risk that comes along with them.
Of course, none of this is news to scientists. Many scientists have been trying to warn people about the use of triclosan, which is an ingredient in a lot of liquid soaps, for decades. Senator Edward J. Markey said that the government has knowledge that triclosan may interfere with the body's ability to produce thyriod hormones. This is a hormone that is very important for brain development, this goes double for children. It is also extremely important for puberty and fertility.