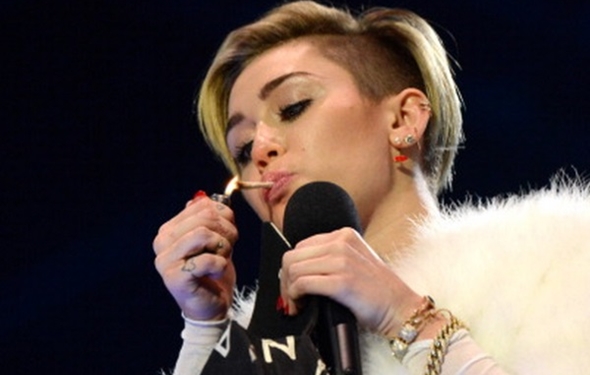 If there is one thing that people love more than watching someone do well, it is watching that person fail. It is just human nature. Maybe that is why Miley Cyrus keeps finding herself in the spotlight. After her performance during the MTV VMAs, everyone was wondering what she would do next. Well, during her performance at the MTV EMAs, she showed us.
The MTV EMAs took place in Amsterdam. Maybe this is why Cyrus assumed it would be alright to go on stage and smoke a joint during her performance. Of course, there was more to her performance than just smoking a joint. She also twerked while a dwarf grabbed her butt. It is a performance that people will not soon forget, even if they don't forget it for the wrong reasons. Despite all of this, people in Europe still seem to love her. In fact, this 20-year-old singer was able to take home Best Video for her song "Wrecking Ball."
Cyrus was not the only performer to sing on stage during the MTV EMAs. The crowd also got performances from Katy Perry an Eminem. When Cyrus got on stage she decided to sing her song "We Can't Stop." During her performance, she wore a silver spandex outfit and attempted to twerk in front of a midget female dancer. Despite claiming that she would never do it again, Cyrus finished her performance by sticking her tongue out. Those who watched the MTV VMAs know this signature move all too well. Of course, it seems to be what the crowd in Amsterdam wanted because they cheered when she did it.
It was not until she won her award, however, that she decided to light up a joint on stage and start smoking. If there is one thing that Cyrus is good at doing, it is drawing attention to herself. She has everyone already wondering what she will do next?