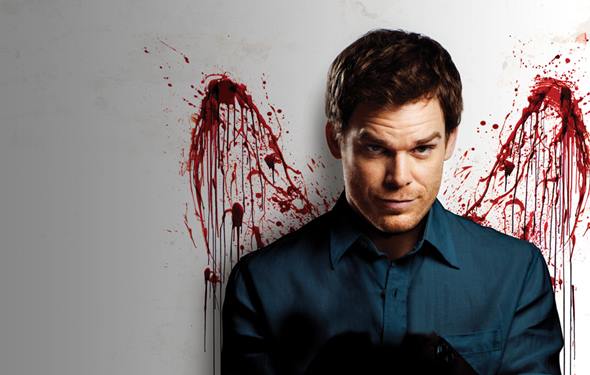 2013 is now over, and that means it is time for a new year filled with television programming. Many television shows will return from their holiday breaks starting tomorrow, but 2013 had some awesome programming that kept fans tuning in throughout the year. New shows and old favorites made television fun to watch. Some television shows made their exit in 2013 as well. What shows made 2013 great? With so many television shows, it is not easy to pick a top five, so here are six television shows that stood out in 2013.
Dexter and Breaking Bad: 2013's Close-outs
Both "Dexter" and "Breaking Bad" left the airwaves in 2013. Both shows killed off major characters before the last credits began to roll, and fans will miss both Walter White and Dexter Morgan in 2014.
"Breaking Bad" had the death of Walter White. The series was a big hit for AMC, and it made fans tune in weekly to find out what Walt would do next. The final eight episodes aired in 2013, and it gave fans the big exit they wanted to see. Walt didn't die alone though. Before the finale, fans also saw Hank die as well. A prequel series is already in the works for those wanting more out of these characters. The spin-off will arrive in 2015.
"Dexter" said good-bye to Deb Morgan in the finale. While many fans thought the series would end with the death of Dexter, fans were surprised when photos for the filming of the season finale leaked before the episode. Dexter was shown alive and well, but he was carrying a body. Many fans wondered the identity of the dead person.  In the end, it was his sister that left behind everyone. This Showtime series was ground breaking television that brought in viewers weekly. It is one television show that helped change the face of television, and it will be missed.
Scandal: 2013's OMG TV Winner
"Scandal" is known for great OMG television. Those moments where you scream out loud at the television screen and go to your Twitter to scream again. Shonda Rhimes is known for making great television, but she has outdone herself with this television series. Covering all the political intrigue in Washington D.C. with a great romance connected to it all. Olivia Pope can fix almost anything, but she can't do anything when it comes to her personal life – both in the romantic department and in her family life. Olivia fell in love with the one man she cannot have no matter what – President of the United States. Even though their romance is forbidden, Fitz wants Olivia, and he will do anything he needs to do to have her.
Season three saw so many twists and turns. From Mellie asking Olivia back to work at the White House, to the reveal that Olivia's mother had not died when she was teenager, to the final moments of the mid-season finale that revealed the fact that Olivia's mother was a spy for another country and Jake was the new man in charge of B613. Don't forget Huck capturing Quinn and torturing her. Those scenes earn double OMG status for 2013. This series is a hit that will keep fans tuning in when it returns in 2014.
The Originals: 2013's New Kid Winner
"The Originals" was first known as "The Vampire Diaries" spin-off, but this series has broken away from that shadow and made a name for itself since its premiere this fall. The story of Klaus has been revealed to have more layers. His siblings, Rebekah and Elijah, have more to them than being related to Klaus. This series has dived in to tell a rich history that was only hinted at during Klaus' time in Mystic Falls. Fans are learning more about this original family of vampires, and they are joined by strong characters that can match up with them.
This series has made Tuesday night a hit for CW again. Fans are tuning in to watch Klaus take back New Orleans while Sam and Dean deal with angel hell on "Supernatural" as a follow-up. A spin-off is planned for "Supernatural" for next season, and CW can only hope that the new series can manage to do what "The Originals" has done this season. It is not just a spin-off series anymore. It has become a separate entity, and fans will see more action in 2014.
American Horror Story Coven: 2013's Evil Good Winner
Witches have taken over things at American Horror Story this season. Jessica Lange has managed to make one evil witch something to watch this season, but she has not been alone. With Angela Bassett and Kathy Bates joining her, the series has become something to watch, and the season is not done yet! With four episodes set to air in January, Ryan Murphy has promised big things for the series.
Fans will see Stevie Nicks sing with one of the witches and more death come before the new Supreme Witch is revealed on the series. The cast hasn't even known who the most powerful witch will be when the final credits roll. This series has brought deaths and creepy moments to the small screen. This season was not as gruesome as the last installment of this FX series, but it still packed a powerful punch. Fans will need to keep watching to find out what happens next.
The Walking Dead: 2013's Deadliest Show Winner
"The Walking Dead" is known for its high death count, and that continued during season four. The mid-season finale had the death of The Governor and Hershel.  On a show about zombies, it is not surprising that the death count is huge, but the deaths still manage to shock fans when they do happen. With new twists popping up during season four, this series managed to keep fans tuning in, and they tuned in with record numbers.
With season five set to start production in 2014 and a spin-off on the way for later on, this season still has a lot more life in it. The second half of season four is promising a new direction for the series. The prison is gone, and Rick will have to figure out what to do next. With a new villain on the horizon, more trouble is coming. Carol was banned from the prison after she killed, but fans will see her return before the season ends. It is even teased that she will be the newest villain on the series. Fans will have to watch to find out. There is a new villain needed though after The Governor's death.
The Year That Was 2013
2013 had some great television, but not every show was great. The shows above managed to bring in viewers week after week. Fans gathered together in person or online to talk about these shows. They received the most buzz out of all the 2013 programming combined. Television programs like the ones above that remind viewers why they sit in front of the television one hour out of every week and just watch the stories come to life on-screen. These shows are not to be missed. If you are not watching one of these shows now, here is your chance to tune in. "Dexter" and "Breaking Bad" are gone, but the other shows are still airing new episodes. Find a new favorite to add to your weekly viewing in  2014.
What do you think? Was show your one of the best of 2013? Did your favorite not make this list?