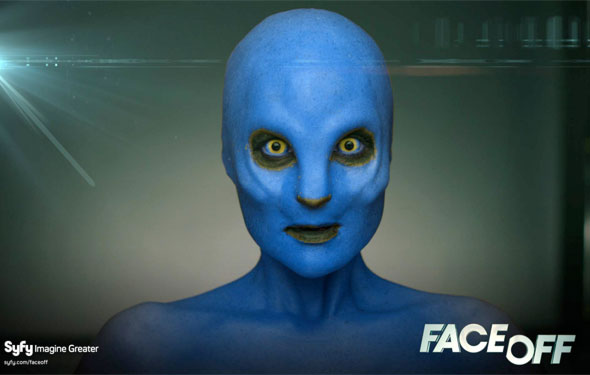 Face Off has no relation to the Nicolas Cage/John Travolta movie of the same name (although it should – Nicolas Cage does a lot of good work). SyFy TV's version of Face Off is a competitive reality show in the same manner of the popular fashion series Project Runway, but instead of making clothes and outfits, contestants must tap their make-up and special effects skills and create living monsters, beasts, and characters.
Just about the only similarity with Project Runway that Face Off shares is the use of models for the designs – well in this case, creatures. No word yet on whether or not there will be a spin-off following the lives of the Face Off models. One can only hope!
The level of expertise displayed in just the trailer for the show has me excited, as it seems the designers will be using anything from make-up, to prosthetics, 3-D design, sculpting, eye modification, casting, molding, and in one case, some fake hair.
Just like in other shows of this type, we will get to see the finished work and watch as one of the talented participants get sent home. And knowing that the judges are composed of big special effects names like Ve Neill Glenn Hetrick, and Patrick Tatopoulos, who collectively have worked on huge projects like Stargate, Heroes, The X-Files, Underworld, Independence Day, and Pirates of the Caribbean, it's going to be a hell of a competition!
Face Off will have its series premiere January 26 on Syfy. Check out the preview:
If you are interested in keeping up with the show, you can also check out the official Face Off page here on SyFy.com, they also have a lot of great promo videos for the show that are fun to watch too!