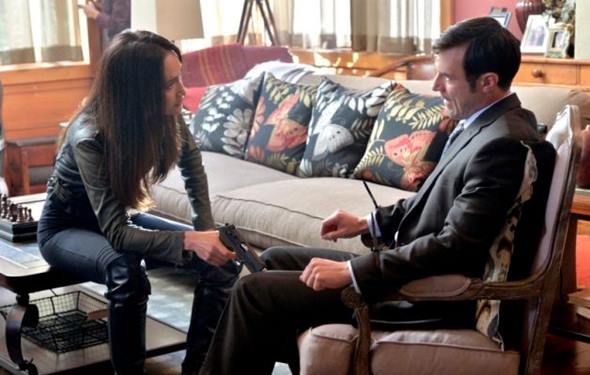 "Nikita" will air its huge series finale on Friday night, and the series has come full circle to end things. How will Nikita and her team end their run on CW? Nikita has returned to using just Alex for this final mission. The CW series started with a partnership between Nikita and Alex, who are played by Maggie Q and Lyndsy Fonseca. Nikita saved Alex when Division killed her father and ordered Nikita to kill the teen as well. She saved her, but Alex did not have it easy. She was sold into the sex trade in Russia, and she became a drug addict. Nikita saved her once again, and she trained her to infiltrate Division and take them down. Now, the two are together again, and they are set to take down Amanda and her new group.
The final season of "Nikita" had a slow start, but episode five delivered action and drama in a big way. Before the episode aired, Craig Silverstein said it was the best episode he ever shot for the series in a preview released before the episode aired. During the episode, Amanda kidnapped Ryan, and she was about to experiment on him. However, he managed to escape. He had no way out though. Instead of allowing Amanda to recapture him, he jumped through a window. He survived the fall long enough to tell Nikita that Amanda was alive. She was thought dead. Noah Bean said the following about the necessity of Ryan's death to TV Guide:
I think that was the only way to get the truth out. He knew that if Amanda got her hands back on him that she would do her little brain-eel thing and it would have been over. She would have won. It was the only way to expose the fact that she was still there.
Ryan's death gave Nikita the push she needed to go back out and take down Amanda. Before his death, everyone thought the big bad was dead, and their lives could finally move on. Everyone had pardons. Their lives were free and open. They could do anything they wanted, but Nikita could not live her life knowing Amanda was still out there.
Now, she will work side-by-side with Alex to finish it all out. The episode will also help Nikita find herself. Is she the assassin Division made her? Or can she live a normal life? This was revealed by Craig Silverstein in his preview for the finale via Seriable. TV Guide also shared more spoilers for the finale. Birkoff will decide to help Nikita and Alex, and Michael will have his own side mission with Sam. However, there is a double lurking among the group. The only person that is not the double is Michael.
This is an interesting twist. Earlier in the season, Amanda was looking to clone Nikita with a double. That was only shown once, and it was never revealed if she followed through with the plan. Alex has been taken by Amanda in the past, so she could be a double. Birkoff and Sam are also fair game. Nikita and Alex will have their issues during the episode. Maggie Q teases a 'dark' scene for the pair. The two have had their fair share of issues following their season one partnership. Alex and Nikita have not always seen eye to eye, but a lot of that has to do with Amanda's mind control experiment with Alex last season.
What do you think? Are you excited to see the end of "Nikita" on CW? Will you be watching the finale? Who do you think the double on the team is? Find out by watching CW on Friday night.