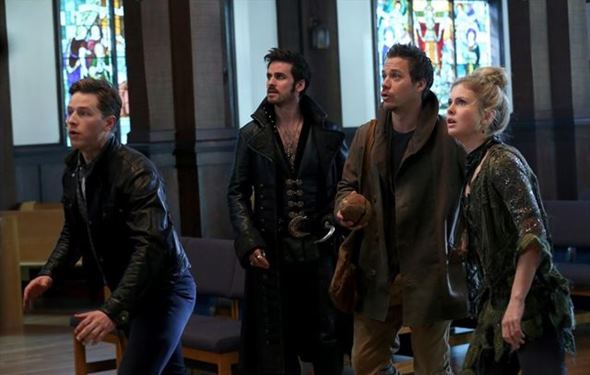 "Once Upon A Time" is ready to finally take on Oz, but are they jumping into an already overcrowded Oz landscape? Oz is hot right now. James Franco brought his own take of the Wizard to the big screen, a new animated film is set released in May 2014, and Dorothy even popped up on "Supernatural" this season. CW and NBC were also looking at Oz related pilots in recent months. Everyone loves Oz, but everyone loved vampires and zombies too. There is something called 'too much of a good thing' in the television world.
"Once Upon A Time" will have their own take on the classic. This series is known for changing things up in a major way. Rumpelstiltskin is not only the spinner of gold, but he is also The Beast, and he loves his Belle. Peter Pan was not the sweet little boy that never wanted to grow up. He was once Rumpel's father, and he abandoned his son to become a boy again. This series is known for making new twists and turns for the storybook characters children love to read. Rebecca Mader will take on the character of The Wicked Witch of the West, and E! Online gave fans their first look at the actress in the role after the finale aired.
The actress has already been seen working on set in Vancouver. Fans of "Lost" will recognize her as Charlotte. Her casting was announced a few weeks ago, but her exact role was kept a secret until after the fall finale of the series aired. Now 'Wicked is coming' is the new tag line for the series. Her connection to the characters or how she will become a part of the action was not revealed.
At the end of the finale on Sunday, Storybrooke was destroyed, and a number of the characters returned home to the Enchanted Forest. The only two that did not return were Henry and Emma. Henry was born in this world, and Emma was the savior. This allowed her the ability to remain.  Regina gave her and Henry new memories, and they went on to live their lives away from fairy tales. However, Hook showed up on her doorstep a year later, and he needs her to save her family. She has no idea who he is though.
This finale takes the series in an entirely new direction, and it might even make the Oz connection work. Adam Horowitz and Edward Kitsis have always planned to bring Oz to the series in some fashion. The flying monkeys were shown in Henry's storybook back in season one. Fans even asked time and time again when Oz would arrive on the show. Now it has, and the timing could work, but it could also fail.
With all of the other Oz related projects in the works on both the small screen and big screen, fans might get Oz'ed out by the time it is all said and done. The only way to make them all work is that each project will need its own special niche. "Once Upon A Time" is not like many other shows on television. The series did have a spin-off, but ratings for "Once Upon A Time In Wonderland" have been low. The series has been on the verge of cancelation for weeks now. Fans have a tendency to cheer on the villains on the series. Rumpelstiltskin is as evil as they come, and fans want him to find his happy ending with Belle. This series will take on the evil green witch, and it is likely fans will find something to love about her too.
What do you think? Is there too much Oz on the way? Or are you excited to see ABC take on the classic on this series? Oz will come to "Once Upon A Time" when the series returns in March to ABC.