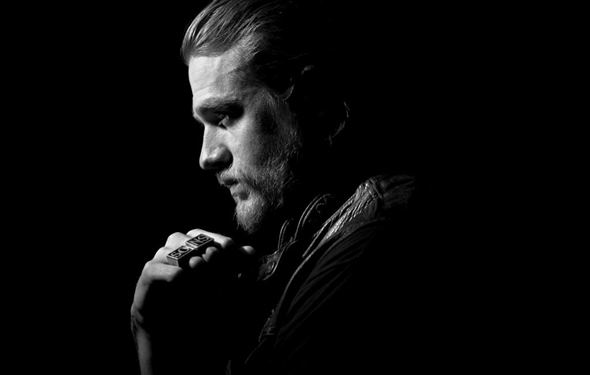 Season six of "Sons of Anarchy" ended in an explosive way, and it will change everything for Jax as it heads into the final season of the FX series. Kurt Sutter has teased just a bit about what is next for Jax as he tries to deal with the loss of Tara and the other anchor in his life as well. Charlie Hunnam will bring Jax's story to a conclusion when the series ends at the end of season seven, but he will have to deal with things and make decisions first. What will happen to Jax?
Kurt Sutter is the man in charge of the series, and he has teased just a bit about what is coming next for Jax. Fans saw Gemma kill Tara on the season six finale, and this came at a point where Tara was just getting her life straight. Jax will not start season seven knowing that his mother killed Tara, but that bit of information will likely come out as the season unfolds. What is season seven about? Kurt Sutter teased the following, according to Seriable:
[Season 7 is about] what happens to a guy who has lost both of the people who he loved the most and who centered him the most. It is Jax untethered and on his own in the final season.
Jax will definitely need to make some big decisions next season as well. He will need to decide what path his life will take next. Will he go clean completely and lead a straight life? Or will he stick with the gang and continue down the dark path he has been on? Season seven will find Jax on the fence, and by the end of the season he will make a decision.
Charlie Hunnam made his own decision early this year. He was cast in the role of Christian Grey in the "Fifty Shades of Grey" film, but he backed out of the role. Production of the film would conflict with production for "Sons of Anarchy." It was already known that season seven would wrap the series, and he wanted to finish what he started there. His character is at the center of the action. If he would have remained with the film, this could have caused problems for production of the television series.
"Sons of Anarchy" is one of the more popular series on FX, and numbers for the finale proved its popularity once again. According to Coming Soon, 5.2 million tuned in to watch the finale for the series, and that made this season's finale the most watched finale for the series ever. Fans will have to wait until the fall to find out what happens next on this series. New episodes of "Sons of Anarchy" will air in 2014.
What do you think? Did you expect to see season six end the way it did? Are you excited to see where the final season takes Jax and the others?