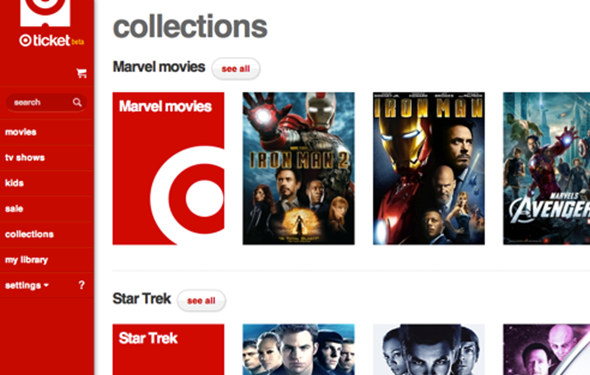 Everyone is going digital. It does not matter if you are talking about gaming companies or large retailers. Take Walmart, for example. Back in 2010, Walmart started its VUDU service. In short, this service makes it easy for people to watch new releases and buy movies right from their own homes. These movies can then be accessed from any device that allows you to login to your VUDU account. Now, it seems like Target wants to get in on the action.
Target has asked a select number of consumers to be part of its beta streaming service. This new service, if successful, will be called Target Ticket. Overall, it will work much in the same way as VUDU. The service will launch with more than 15,000 movies and TV shows. Just like VUDU, users can choose to rent or buy these titles.
The prices are a bit on the high side compared to some VUDU alternatives. According to experts, Target Ticket will give consumers the option to rent a movie for $5 or buy the movie for $15. Renting a movie is a bit more expensive than some VUDU options (like renting a movie in standard definition), but movies costing only $15 to buy is a great deal. It is apparent that Target Ticket is pushing more for the sale of videos than just rentals.
Keeping that in mind, it is pretty apparent that Target Ticket is not going after services like Netflix, from which you can rent an unlimited amount of digital movies for just $7.99 a month. Instead, it looks like it is going after companies like Walmart who are selling movies digitally.
Besides the lower cost to buy movies, Target Ticket has another trick to put it on top. It is called REDcard discount. This is a discount that is given to consumers who have a REDcard and buy movies digitally. The discount is only five percent of the cost of the movie, but that might just be a big enough discount to give Target Ticket the advantage over Walmart.
Target Ticket will handle TV shows as well. Just like VUDU, you can choose to rent by the episode or to buy the whole season. Right now, episodes can be rented for $2.99 a piece, and the whole season can be purchased for $34.99. Once again, the REDcard discount would apply to whole season purchases.
Last but not least, Target Ticket will include parental options. This service will allow parents to block certain content from being accessed. Thus, users can buy whatever they want and do not have to worry about their kids watching it as well. The filters that parents can block are pretty in-depth. For example, parents can choose to block all movies that include drinking or smoking in them. No word has been given yet as to when this service will launch for everyone.