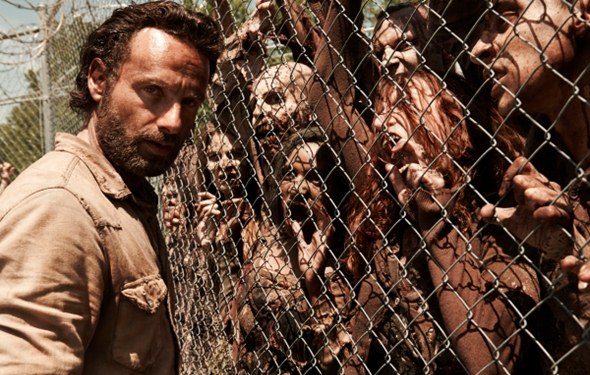 Are you ready for more zombie action to fill your Sunday nights? Just when you thought you couldn't wait another minute for the return of The Walking Dead to AMC, the weekend of the season premiere has finally arrived. That is right. The Walking Dead is back with season four this Sunday night, and fans will see the first eight episodes before the series takes a short break before returning for eight more episodes early next year. Yes, this is another long season with more walker action and deaths to come. Want to see walkers fall out of the sky? Fans will see that this season.
Have you been keeping up to date on all the latest spoilers for the season ahead? If you haven't, then check out below for just some the information you need to know before you sit down in front of your television this Sunday.
A new threat is coming, and E! Online has teased that fans will know what that threat is by the end of the season four premiere. This new threat is neither human nor walker. Something else is coming. However, the zombies have been teased as being scarier for season four as well. Norman Reedus and others from the cast have teased this new threat to the safety of the survivors since production began on season four back in May.
As for Rick, he saw the young man his son was becoming at the end of season three, and this will change him significantly. Young Carl killed without thinking. Because of this, Rick will step down as leader of the group, and he will focus on his two children. Andrew Lincoln even teased that fans will see Rick smile this season, according to E! Online. That will be a big change. Season three had him recovering from the loss of his wife, and quite a few months have passed since the end of season three. In fact, it has been a six month jump. A possibility of a new romance for Rick has also been teased.
What about The Governor? Is he gone? Not by a long shot. In fact, fans will see two stand alone episodes for the villain, but he will deal with some big things during season four. He will truly understand the man he has become, and he will try to cope with that realization. At least one person will seek their revenge against him though. Steven Yeun teased to TV Line that he has learned about vengeance, but he will be there for those he loves as well. Maggie and him are in a good place, and fans might even see a wedding during season four. The pair just has very different ideas about how to handle things.
With the the title of 30 Days Without An Accident for the premiere, fans should expect to see that track record end. Someone will die during the episode. According to MTV Splash Page, Greg Nicotero teased that the new threat will come when the group has become their 'most comfortable.' That comfort will make the new threat even more shocking when it is revealed.
Big action is teased for the season ahead, but it is the characters that keep fans tuning in each and every week. Each character has become important to the fans of The Walking Dead. That makes the losses even more difficult to take. This series is also known for their twists and turns, and season four is promising to keep that going. With a spin-off for this series coming in 2015, fans will have a lot more zombie action to come during the years ahead on AMC.