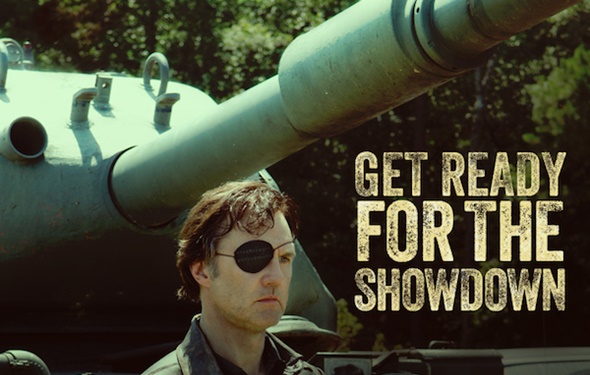 It is time for "The Walking Dead" mid-season finale, and fans should definitely expect to see one 'intensely dramatic' episode on Sunday night when the zombies take over AMC for the final time of 2013. This season has taken fans down a different path than the previous seasons. Yes, there are zombies walking around, and they are still a very real issue for Rick Grimes and the other remaining survivors on this series. However, there was a new threat revealed during the season four premiere, and that threat has caused just as many problems.
What was that new threat? A virus that began to work its way through the survivors in the prison. It was so bad that quarantine was necessary, and fans did see some familiar faces fall victim to this new virus. More drugs were needed. More antibiotics and other medicines became important, and that meant a search for new resources away from the prison.
The virus also caused fear among the survivors, and Carol used that fear to make her own kill. Fans were shocked by the fact that Rick banished her from the prison while they were out on a search for supplies. Many fans are wondering if they will see Carol again on this series. There is even speculation that Carol will become a new villain as a Governor 2.0. Fans should definitely expect to see Carol again on this series, but it isn't clear if that will happen on the mid-season finale or when the series returns with new episodes in February.
What should fans expect to see on the mid-season finale titled "Too Far Gone" on Sunday night?
There will be a death. It will be a major character death, and it will be shocking. This is not new to this series, but speculation is creating buzz about this major death, according to Fashion & Style. This death was even teased in the final moments of the last episode, and speculation has it being either Michonne or Hershel who will become the next to die at the hand of The Governor.  When he was seen again in episode six, it began to look like Governor was a changed man, but that is not the case. A sneak peek for Sunday's episode via From Inside The Box shows him trying to rally the new men he has to take the prison back. He uses lies to get their support. This is not a changed man.
This episode will change a lot for the series. It will finish a journey, and it will cause the start of a new path for the second half of the season. Scott Gimple, the executive producer of the series, teased that in his new comments about the mid-season finale, according to Seriable. He said the following:
I believe that it fulfills the story of the first seven episodes. It is very much an ending of sorts for a lot of these characters' stories. I can't wait for people to see it. A lot of things are coming to a head all at the same time. It really unfolds at a breakneck pace — a lot of big things happen.
With Scott Gimple taking over things with this series, fans did wonder if a change in show runner would cause problems for the series, but fans are still tuning in to watch this series week after week. Records are still broken. The series has managed to keep its strength, and fans are still as passionate about the series as they have been since the beginning. AMC still has faith in this series as well. The series has already been picked up for season five. Production just wrapped last week on season four, so the cast that managed to survive will return to work next spring on new episodes.
What do you think? Will you be tuning in to watch the mid-season finale? Who do you think will die?