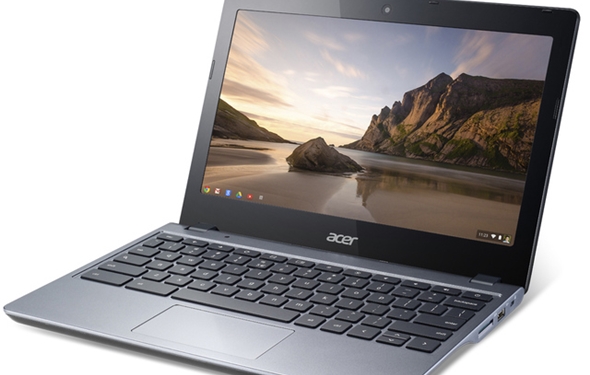 It seems that Acer has finally gave up some more details about its new C720 Chromebook. This was a computer shown off earlier this year at the IDF show. At the time, however, not many details were given about it. So the real question is, "Is the C720 Chromebook worth it?"
Before today, the most anyone knew about the C720 Chromebook was the fact that its battery life is supposed to last all day. We also knew it is a lot lighter and thinner than the Acer C7 Chromebook. Now, however, Acer has reported that the C720 is at least 30 percent thinner than the C7 at only 0.75 inches. It also weighs only 2.76 pounds. This is a device that is meant to be carried with you no matter where you go. Looking for a power supply should not be an issue since the battery should last you most of the day with a rumored 8.5 hours of battery life.
Being a Chromebook, the X720 is updated often with the latest version of Chrome OS, which is completely built around the Chrome browser. If you are not a fan of the chrome browser, Chrome OS is not for you. Another amazing feature of the C720 is the fact that it has a seven-second boot up time. This makes it one of the fastest booting computers available on the market today. However, what you really want to know is what this little computer has inside.
The Acer C720 comes with 4GB of DDR3L memory. As far as processing power goes, it is using an Intel Celeron 2955U. For storage purposes, you are given 16GB. As you can tell by these figures, the C720 is not supposed to replace your current desktop or laptop. Instead, it is supposed to be a carry around computer that you can easily access. It is quick and handy, but it is not made for playing games. It gives you enough power to write reports, surf the internet and so on.
As far as ports go, the computer features both USB 2.0 and 3.0 ports. It may not have a lot of internal storage, but it does come with an SD card reader so you can easily view documents that are stored on a card. Shockingly, the C720 does have a built-in HDMI port. So if you want to hook your little computer up to a TV, you should have no problem. The screen that comes on the C720 is an impressive 11.6 inches. The screen also features anti-glare technology.
So how much is all of this going to set you back? The first model of the C720, which is available for pre-order on sites like Best Buy and Amazon, will set you back $249.99. This is a great price for a small computer to keep on hand when you travel.
https://electrokami.com/wp-content/uploads/2018/01/electrokami.png
0
0
Electro Kami Staff
https://electrokami.com/wp-content/uploads/2018/01/electrokami.png
Electro Kami Staff
2013-10-11 09:19:12
2018-08-26 21:13:43
Acer C720 Chromebook for Pre-order, but Is It Worth It?