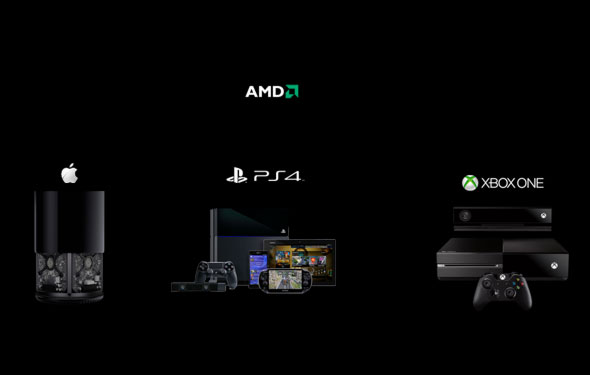 AMD and ATI versus Intel and NVIDIA?
It seems like anyone interested in building high-end PC gaming or workstations are primarily focused on Intel and NVIDIA hardware for their CPU (central processing unit) and GPU (graphics processing unit) respectively, but, as always, AMD and ATI fight back with their awesomely fast processors and excellent price-versus-performance marketing for their dedicated graphics cards.
Apparently their third-party partner relations department is also working extra hard to maintain market control, as they've yet again managed to get their products into a large assortment of game consoles and performance desktop computers. In many ways, this is actually expected, as their CPUs and GPUs have been used in the previous/current generation of home video game consoles as well as as a main choice for graphics in most of Apple's products for quite some time.
Solidarity with Apple
As mentioned before, Apple likes AMD for graphics:
With the new Mac Pro, we looked ahead and engineered an even more powerful GPU architecture. Not only does it feature a state-of-the-art AMD FirePro workstation-class GPU with up to 6GB of dedicated VRAM — it features two of them. With all that power, you'll be able to do things like seamlessly edit full-resolution 4K video while simultaneously rendering effects in the background — and still have enough power to connect up to three high-resolution 4K displays.
Apple puts those ATI cards everywhere, from their MacBook Pro to their Mac towers. It seems to work so far!
Microsoft keeps ATI and throws in an AMD 8 core
In Microsoft's case, they have previously changed graphics horses with the Xbox 360, which uses an ATI chip – the original Xbox utilized an NVIDIA card. Microsoft has declared AMD to be their partners in gaming for the Xbox One:
Not much is known about the Xbox One GPU, but a Microsoft representative has told IGN "AMD is our primary partner for the custom silicon that makes up our GPU/CPU SOC that is the heart of Xbox One."
Another new arrangement in the Xbox One is the addition of an AMD 8 core APU (Accelerated Processing Unit), which will provide a nice boost to the gaming capabilities in MS's new console.
Sony jumps to AMD for CPU and GPU
In the PS3, Sony was the sole console manufacturer using an NVIDIA graphics card. Not anymore for the PS4, as Sony is pretty jazzed about their new console, which has an AMD Radeon™ Graphics Core Next engine:
The PS4™ system is centered around a powerful custom chip that contains eight x86-64 cores and a state of the art 1.84 TFLOPS graphics processor with 8 GB of ultra-fast GDDR5 unified system memory, easing game creation and increasing the richness of content achievable on the platform. The end result is new games with rich, high-fidelity graphics and deeply immersive experiences.
Nintendo loves their ATI graphics … but also love IBM's PowerPC
Oh, and don't forget about Nintendo's Wii U, who launched last year with an AMD graphics chip stuff into it's little Mario-distributing shell. Nintendo has always been pretty keen on ATI, as they've utilized ATI GPU chips in the Nintendo Wii and the Gamecube.
They love to be different as well, and have included an IBM built PowerPC CPU in all three of their disc-based consoles. Perhaps next generation they will try out an AMD CPU instead?
https://electrokami.com/wp-content/uploads/2018/01/electrokami.png
0
0
Cameron Manavian
https://electrokami.com/wp-content/uploads/2018/01/electrokami.png
Cameron Manavian
2013-06-22 00:02:00
2018-08-26 21:13:43
AMD: Your provider of next generation GPUs, CPUs, and even Mac Pro power