Before we start, let's get a few things straight: we will not be discussing Dawson's Creek, Ally McBeal, The Real World, Frasier, or 7th Heaven. For one, I don't really care for them, and for another, there were a lot of hard decisions I had to make while compiling this list.
Also, we will not be discussing any cartoons from the 90s, as those will be discussed in another post.
Anyways, some of the stuff I like very much. Some of the stuff I quite like. And I don't hate any of it. Here are the top ten 90s television shows that you should watch right now!
10. In Living Color
Once called "the poor man's Saturday Night Live", In Living Color became one of the most memorable sketch comedy shows of all time. Aside from the fact that a bunch of now-famous actors started out on this show, we were also forever laughing from the many recurring characters.
Before becoming a superstar and a dramatic actor, Jim Carrey was cracking us up with his alter-egos Fire Marshall Bill and Parnell.
Damon Wayans had skits that killed us like Homie the Clown, Men on Film, and Mo' Money, as well as that homeless guy who used a jar of pickles for a toilet.
In Living Color also had early career showings for Jamie Foxx, David Alan Grier, Tommy Davidson, and even Jennifer Lopez as one of their Fly Girls (the dancers for various … dancing things).
While some of the humor may be a little hard to get, there are so many good highlights that you have to at least watch the greatest hits or catch a few clips on YouTube.
Check out this YouTube video of one of our favorites, Jim Carrey as Fire Marshall Bill:
9. Boy Meets World
An amazingly substantial show from the 90s, Boy Meets World is an interesting look into the life of Cory Matthews, who is played by Ben Savage. Even weirder, it shares multiple similarities to television legend The Wonder Years, most notably the fact that the main character Kevin Arnold is played by his real life brother, actor Fred Savage.
Family relations aside, Boy Meets World is kind of like a teenage version of Friends, dealing with similar issues and experiences but more "kid-friendly". The show had a long run, and Cory Matthews goes through all of the struggles as a kid, to a teen, a college student, and an adult.
It is quite intriguing to be able to see all of the characters literally grow up from season to season. It resembles the same feeling you get when you watch the Harry Potter movies.
A lot of people grew up with Cory Matthews in the 90s, sharing his troubles and mistakes, and going through friend, family, and girl issues just the same. It even had a teacher and principal (Mr. Feeney) that eerily followed Cory wherever he went.
And how many guys out there secretly thought Cory's girlfriend Topanga (Daniell Fishel) was kinda cute, or maybe actually had a huge crush on her?
How about when she became an adult? Topanga was hot!
It's just so much fun to watch this show – the earlier seasons are fun for kids and adults, while the older seasons kind of creep into teenage and adult humor. This is one of the few shows from the 90s that had such a massive backlog of character development and growth spanning several seasons.
Here is a memorable clip from one of the best Boy Meets World episodes, the boys first day of high school:
8. Family Matters
Steve Urkel, the unofficial star of Family Matters, is one of the most recognizable and quotable characters of all time. While originally just a bit part as a strange, wacky neighbor, the character of Urkel (played by Jaleel White) is the most funny and lovable characters to ever grace television.
A lot of people may not realize it, but Family Matters had other characters in it. Well duh. But how many people know that the original show concept didn't have Urkel in such a big role? This show by itself made TGIF (Thank God It's Friday) on ABC something you had to watch.
One of the few characters that stood toe-to-toe with Urkel was the father Carl Winslow (played by near-career cop Reginald VelJohnson), who was an excellent character fit and a great actor. He always showed how much he despised Urkel in such an effortless way!
Yep, thanks to Urkel's nonsense, deadpanning, and ridiculous energy, the character and show were catapulted to the top of the tv ratings board. The role of Urkel as the funny nerd with a good heart would be forever impossible to usurp.
Watching Steve Urkel try to woo Laura Winslow week after week all the while trying to stay out of Carl's way was the makings of perfect comedy, as most of the time it ended up blowing up in Carl's face (sometimes literally).
Take a look at this clip where Carl is on a diet and Steve comes in with a cheesy, greasy, smelly pizza. Classic:
7. Home Improvement
A show spanning time, character growth, and actor aging on level with Boy Meets World, Home Improvement is the premiere show for manly oafishness, battle of the sexes, relationship mis-communication, and father-knows-best advice. Tim Taylor was always getting into some kind of goof.
The series also had a half decent Home Improvement video game for SNES and showcased the Tool Time babes Heidi (Debbe Dunning) and Lisa (Pamela Anderson way back when).
Never taking itself too seriously (well mostly – there was< an episode where Randy almost became terminally ill), Home Improvement often ended the episode with a blooper reel of the cast's mistakes, mishaps, and contagious laughter.
The casting of Jill Taylor was perfect, as Jill and Tim had great chemistry. You felt like they were a real couple and you wanted them to succeed and laugh with each other.
With a healthy mix of Tim Allen's comedy, hot rods, women, football, marriage, power tools, explosions, and Richard Karn as Al Borlan, there was a lot of fodder for a lot of hilarious situations.
To this day, I still don't know what Tim Taylor's neighbor Wilson actually looks like. And that's how I'd like to keep it.
Here's a clip of Tim pestering Al with a chainsaw sound effect and cue card:
6. Friends
This show is by far the greatest 90s television series about relationships – there is no other sitcom out there that portrays life among twenty-something as well as Friends did. They even had real life situational comedy that was spot on!
Each episode is so very memorable, as the little intricacies in the dialog, jokes, and character actions make them all unique. In fact, each episode title is listed with the same beginning: "The One With" or "The One Where", so you can easily remember the rest of the show just from the title.
Remember these Friends episodes?
The One Where Ross and Rachel…You Know
The One with the List
The One with the Jellyfish
The One with the Princess Leia Fantasy
Speaking of that last one, Friends was a great series because it catered to tons of different interests. In the episode called The One with the Princess Leia Fantasy, Rachel (who was played by the always attractive Jennifer Aniston) dressed up as Star Wars goddess Princess Leia in an effort to please Ross (wink wink).
It makes for some pretty excellent results (as do the Google Image search results for anything "Princess Leia"!
The series kept things interesting by staying fast-paced and relatable, and there were rarely long stretched-out sections or dragging scenes.
It kept you interested all the way to the "after thought" where the episode was over but they had just one more joke to throw in. And while they may not have created the idea of the last joke of the episode, Friends sure did perfect it. Here is one about the way Chandler talks:
5. Saved by the Bell
Saved By The Bell is based on a close circle of friends and their ups and downs throughout high school. While it didn't have a unique formula, it made for great entertainment fare squeezed into half-an-hour episodes due to its standout cast and characters.
Saved By The Bell starred Mark Paul Gosselaar as main character Zack Morris, who seems to be the person who's life is described in the opening intro:
Zack was surrounded by his cute girlfriend Kelly Kapowski (played by Tiffani-Amber Thiessen), uber-geek Screech (Dustin Diamond), jock AC Slater (Mario Lopez), cute feminist Jessie (Elizabeth Berkley – who later went on to star in Showgirls, a movie essentially about being naked), material girl Lisa (Lark Voorhies), and friendly Principal Mr. Belding (played by now kinda creepy Dennis Haskins).
Who could forget the ever strange episode called "Jessie's Song" where Jessie turns to caffeine pills due to pressure from school? And the resulting rendition of "I'm So Excited" where Jessie falls apart crying in Zack's arms?
After watching that clip, you should get a t-shirt to show how excited you really are!
4. Law and Order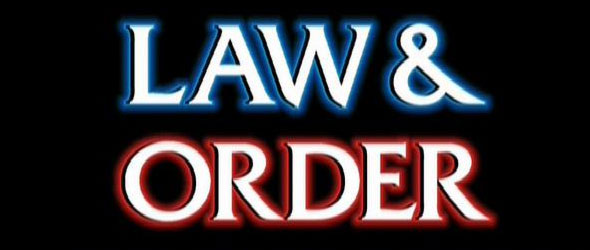 For a show that has been on TV continuously for over a decade, including its many successful spin-offs and changes to the cast, Law and Order is a highly regarded, deep yet simple two-act series about criminal prosecution from both the police detective and city attorney perspectives.
It is a cornerstone in cop-related drama.
The opening statement in the intro credits of Law and Order shows are iconic, to say the very least:
Law and Order
In the criminal justice system, the people are represented by two separate yet equally important groups: the police, who investigate crime; and the district attorneys, who prosecute the offenders. These are their stories.
Law and Order: Criminal Intent
In New York City's war on crime, the worst criminal offenders are pursued by the detectives of the Major Case Squad. These are their stories.
Law and Order: SVU
In the criminal justice system, sexually based offenses are considered especially heinous. In New York City, the dedicated detectives who investigate these vicious felonies are members of an elite squad known as the Special Victims Unit. These are their stories.
Before this series existed, law proceedings in the United States courtroom were portrayed much differently: private defense attorneys were solving cases, public defenders were incompetent, cops were corrupt or inexperienced. Basically, Law and Order showed the truth.
The district attorneys attempt to prosecute the case, the cops care about the law, and the detectives are intelligent, educated, capable defenders of society.
And if it wasn't for Law and Order, Sam Waterston wouldn't be so well known and so awesome, and this clip from Saturday Night Live about robot insurance would not exist:
Aside from the dynamic cast, the stories that were often "ripped straight from the headlines" were the heart and soul of the show. No matter the year that the episode came out, the plots and characters are often still quite relevant to the current times. And although the show is set in New York, many of the stories are so common enough in nature that a lot of them could happen anywhere.
All in all, this series is above and beyond the best choice for a look into criminal justice, with only Bones and Psych as equals in quality and originality to Law and Order. Yes, that means we don't like CSI around here.
3. Mighty Morphin Power Rangers
For any kid that grew up in the 90s, Mighty Morphin Power Rangers was the coolest thing in the world. While it didn't strive to be the greatest kids show ever, it did very well for itself, sparking some excellent toys (I still have mine), two awesome video games for the Super Nintendo (a beat em up and a fighting game) and a really good feature film (with Ivan Ooze – a classic if you ask me!).
There was some good dialogue, some great supporting characters like Zordon, Alpha Five (Ay yi yi!), Bulk and Skull, Lord Zedd, Rita, and the Putty (who sounded like turkeys for some reason).
The Power Rangers had their hands full when it came to cheesy lines and strange plots – but it was still a blast to watch.
It's hard for an adult or even a teenager from the 90s to really "get" MMPR, but for those that watched, it was exciting and approachable. While the spin-offs and next-generation versions of the Power Rangers series are okay, nothing will ever compare to the coolness of the original show (or the toys for that matter!).
And you can't forget the epic theme song with the raging guitar solo! As a matter of fact, the entire Mighty Morphin Power Rangers soundtrack was pretty bitching. Listen to this:
After hearing that jamming track it's hard not to be pumped. They practically perfected music with that song!
Also, remember the pink ranger?
We do!
2. The Fresh Prince of Bel-Air
The Fresh Prince of Bel-Air is a bonafide classic and iconic 90s tv show. You can watch the opening credits and automatically feel like you are there in Philidelphia or California with Will – and you want to be!
The show is appealing on several different levels: the wonderful acting, the hysterical one-liners and passive-aggressive chat between characters, the great music, the gripping or silly story lines (with great messages underneath).
Fresh Prince was the formula for what made a remarkable sitcom of the 90s. Will's character is approachable and likable, and the Banks family each had their own little unique shtick: Carlton was a grounded yet goofy spaz, Geoffrey was a miserable but wise servant, Philip (the dad) was a conservative leader, and Hilary was a clueless attention grabber.
But that is almost too much of a pigeonhole for each of the characters, as they always managed to surprise you with a new level of depth and complexity. You find yourself growing to love all the Fresh Prince characters, even after only a few episodes.
Some might say it is underrated, and it is. The Fresh Prince of Bel-Air is definitely one of the best ever on TV.
Oh and how bout that intro? Gold, Jerry, gold:
1. Seinfeld
For a television series that ended in 1998, already more than 10 years ago, to still be one of the best things to watch on TV and instantly quotable is a great feat.
Seinfeld achieves this without breaking a sweat. There is so much character and situational ensuing hilarity wrapped up into every episode that you could easily watch the same episode five times and enjoy it equally.
Just one episode of Seinfeld has you hooked. Watching two or three in a row makes you a Seinfeld addict. Every actor is their character. Every episode is standalone and a great representation of the series.
The writers and actors did nine seasons based on the concept of "a show about nothing" and somehow made each episode better, each season funnier, and each character deeper. If you have managed to get this far in life without ever sitting down and watching an episode of Seinfeld, don't expect an average sitcom or normal character types.
First there's Jerry, a man who measures every woman and person he meets to the smallest little defect. He also lives to find the random little things in life that everyone is aware of but nobody talks about.
One of his friends and main love-interest on and off, Elaine, leads a life of neurotic relationships, pet peeves, and button-pressing. She is always getting angry at that smallest detail.
Seinfeld also has best buddy and successful-loser George, who lies to every single woman he dates, pushes aside women, children, and the elderly to escape a fire, lives with his parents, and has grand delusions about becoming an architect, marine biologist, or Yankees manager.
Finally, we have Jerry's insane slapstick neighbor Kramer, who slides through the door, eats all the food, shakes his hand around, and is gone before you know it. His entrepreneurial skills are only eclipsed by his stubborn, fickle nature to never let things go.
As one old man who admires fine art describes Kramer:
I see a parasite. A sexually depraved miscreant who is seeking only to gratify his basest and most immediate urges.

He is a loathesome, offensive brute. Yet I can't look away.
I couldn't have said it better myself.
Seinfeld comedy has lasted for over twenty years. After two decades of watching this show, it's hard to pick just one clip. Here is a video that features ten great clips from Seinfeld for you to enjoy.
https://electrokami.com/wp-content/uploads/2018/01/electrokami.png
0
0
Cameron Manavian
https://electrokami.com/wp-content/uploads/2018/01/electrokami.png
Cameron Manavian
2011-01-29 16:29:48
2018-08-26 21:13:04
Top Ten 90s TV shows