With two new cheap quality tablets on the market, one would ask themselves which one to get. We think both are swell, and have compiled a list of reasons why!
Tech specifications for both the Amazon Kindle Fire and the Google Nexus 7 can be found at the end of the article.
1. They're cheap!
At $199, the Kindle Fire is one of the cheapest tablets on the market. Starting at $199 and topping out at a still reasonable $249, the Google Nexus 7 is no hassle on your wallet either.
Both share a low price point in order to promote device purchases and to add users into the two major Android marketplaces (Google Play and Amazon App Store), and there is a rumor that both camps (Google and Amazon) are purposely making these devices cheap in order to push more units.
2. You get what you need
To reach the lower price ranges, both Google and Amazon had to make some device decisions and compromises that some would call downgrading or neutering.
Amazon went a little overboard and dropped everything but a 7 inch screen and Wi-Fi, whereas Google had the opportunity to iterate a little more on this price point market and added in features like a camera and a microphone.
Both still lack some major items that most people would "like to have" on their tablets:
Expandable memory via SD card slot (both devices are 8GB with the Nexus 7 having 16GB available at $249)
3G and 4G connectivity
A backwards facing camera (the Nexus 7 currently only has a camera on the front)
HDMI out
But at this price range, you shouldn't expect both Amazon and Google to just go out and give us all of these features – that's for the second generation!
The Kindle Fire features apps for Amazon's Android Appstore, Kindle store, Amazon MP3, and Prime Instant Video.
Likewise, the Google Nexus 7 provides apps for Google Play, Music, Books, Magazines, and games (the HD display and the Quad-core Tegra 3 processor inside the Nexus 7 is amazing!) … plus the ability to also load up Amazon's Android Appstore, Kindle store, Amazon MP3, and Prime Instant Video.
With these things in mind, the Nexus 7 has a far better advantage when it comes to content, but users of both devices will have direct access to a 10,000 movies and TV shows, 100,000 books and magazines, as well as 20 million songs.
The Nexus 7 currently comes with $25 to use as you see fit in the Play store and a free copy of Transformers: Dark of the Moon.
The Kindle Fire comes with a free one-month trial to Amazon Prime (including Instant Videos), a free trial to several major magazines, and usage of the beloved Amazon cloud.
Both devices currently support Netflix and other media services, with more to be added later.
4. Great browsers think alike
The Kindle Fire features a new browser called Amazon Silk. The Google Nexus 7 features the sleek Chrome browser.
The Amazon version can tap into the Amazon EC2 servers, increasing loading speeds (according to Amazon) – the scary part is the fact that Amazon will essentially be acting as a pipeline between websites and every page transaction performed by Fire users.
In other words, Amazon will know where you are browsing, what you will be looking at, and what you are seeing on your Fire at all times (creepy ain't it?). On top of that, since the Amazon Kindle Fire only runs on WiFi anyways, there is almost no real need to use this promoted cloud service anyways!
On the Nexus 7 side, there is the Android version of the Chrome browser (finally!), which can sync tabs and settings with your desktop and cell phone Chrome browsers via your Google account. While not as scary as the Amazon implementation, consider the fact that searches that you make on your tablet or phone will also show up on your desktop version of Chrome (if you're logged in) – think twice before you search!
5. Heads in the Cloud
Both the Google Nexus 7 and the Amazon Kindle Fire have access to all of the current offerings that Amazon provides on a content front – movies, books, tv shows, music, games, and magazines. On top of all that, when you get the Nexus 7, you can also access all of the Google Play cloud based offerings as well, which means even more movies, books, tv shows, music, games, and magazines.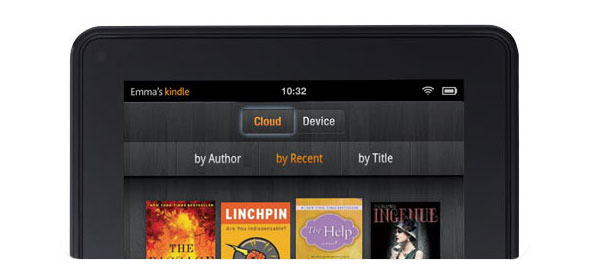 Combine that all with other offerings that Google has like Gmail, Calendar, Google Drive, and Google Reader, and you will find that there are so many things to consume that can all be done on your tablet – whenever you want (WiFi permitting of course!)
6. They supports Android Apps
The Google Nexus 7 wins on this front wholeheartedly, since Amazon wants to profit as much as possible from the Kindle Fire, and with that in mind they have blocked the Google Play app altogether. Greed is a factor here as if the Fire allowed Google Play, Google gets the money and Amazon won't get anything.
The Nexus 7 did this part right by allowing users to have their cake and eat it too: you can install the Amazon App Store or any app that you want as you see fit, no strings attached!
The extra special thing is your existing accounts – if you already have a Google account or an Amazon account, all of your existing content and purchased apps are available to add onto your device. With the Nexus 7 and its $25 credit on purchase, this means that you can apply the credit to whatever you want, and then use the products on any Android device that already has that account tied to it – seamlessly!
---
The specs:
Amazon Kindle Fire Tech Specs
Screen:
7″ 1024 x 600 pixel display (169 ppi)
Multi-touch display with IPS
Ati-reflective treatment
Size:
190 mm x 120 mm x 11.4 mm
Weight:
Wireless:
WiFi 802.11 b/g/n
Bluetooth
Memory:
8 GB internal storage (actual formatted capacity will be less)
512 MB RAM
Cloud Storage – Free cloud storage for all Amazon content
Battery:
4400 mAh (Up to 8 hours of continuous reading or 7.5 hours of video playback, with wireless off)
Operating System:
CPU:
1 GHz dual-core ARM Cortex-A9
Additional Features:
Currently offering Free trial to Amazon Prime
---
Google Nexus 7 Tech Specs
Screen:
7″ 1280×800 HD display (216 ppi)
Back-lit IPS display
Scratch-resistant Corning glass
1.2MP front-facing camera
Size:
Weight:
Wireless:
WiFi 802.11 b/g/n
Bluetooth
Memory:
8 GB internal storage (actual formatted capacity will be less)
1 GB RAM
Battery:
4325 mAh (Up to 8 hours of active use)
Operating System:
CPU:
Quad-core Tegra 3 processor
Additional Features:
Microphone
NFC (Android Beam)
Accelerometer
GPS
Magnetometer
Gyroscope
Currently offering $25 Google Play credit
https://electrokami.com/wp-content/uploads/2018/01/electrokami.png
0
0
Electro Kami Staff
https://electrokami.com/wp-content/uploads/2018/01/electrokami.png
Electro Kami Staff
2012-08-09 07:57:50
2018-08-26 21:13:43
Six Reasons to get the Google Nexus 7 or the Amazon Kindle Fire