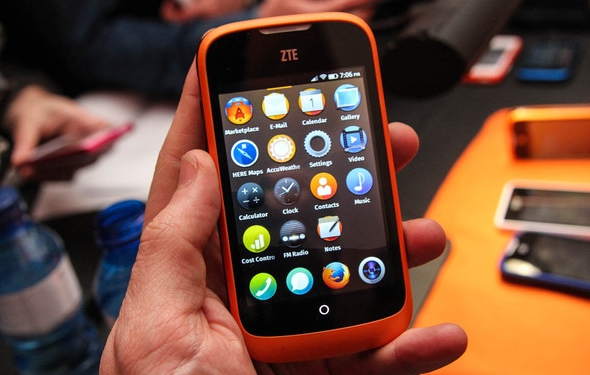 When people think of phones, they usually think of two operating systems: Android and iOS. Of course, it is hard to blame people who think this way because the market is dominated by these two operating systems. It now appears, however, that another player is going to try to give these two systems a run for their money, and that is the FireFox OS.
Most people have already heard of FireFox. It is best known as one of the most popular internet browsers available today. Now it appears that Mozilla is going to try its hand at making a phone with this operating system. Typically, it is hard for any company to jump into an industry that it is not familiar with. However, FireFox and ZTE have come up with a pretty good formula that they think might lead to success.
According to ZTE, which is a smartphone manufacturer, the FireFox OS device is going to launch for just $79.99. Not only that, but the device will be launched off-contract and already unlocked. Thus, you can use this phone no matter what cellphone provider you use. The phone will come out in many colors, but the "FireFox Orange" color will only be made available via eBay.
As you can clearly tell by the price, this phone is not going to blow anyone away with its specs. In fact, its aim is to be a low-end phone that everyone can afford. With this price tag, some people might just pick one up to see how it works. ZTE said via a press release from its official site earlier this week that the FireFox OS phone is going to be made available starting today, August 12.
So this just leaves one question: What do you get for $79.99? Well to be honest, you get a lot considering how low the price is. That being said, the phone itself would be more comparable to phones from about three years ago. It supports 3G connectivity and has a 3.5-inch, 480×320 display. The phone also offers expandable memory via a microSD slot on the phone, but it does come with 512 MB of internal storage. It has one 3.15 megapixel camera, which is located on the back. As far as RAM goes, there is not much there. The phone only supports 125 MB of RAM, and it is powered by a 1.0 GHz Cortex-A5 processor.
Once again, however, the phone is not trying to wow you with specs. Instead, ZTE and FireFox want to offer a phone that is not $700 like many smartphones of today. They also want to show what a phone can do when it runs an OS based off open web standards. Also, the fact that the phone comes unlocked makes the phone useable by everyone.
The truth is that smartphones of today are priced too high, and people are buying them. However, they are only buying them because they do not have to pay for the full price of the phone up front. Smartphones are priced in a way that most people are not going to buy them straight out, which keeps people locked into a 2-year contract with their mobile service provider. ZTE wants to show that there is a way for people to buy their phones and switch phone companies whenever they want. On the other hand, FireFox would like for its operating system to catch on so that it can take a piece of the market away from Android and iOS.
https://electrokami.com/wp-content/uploads/2018/01/electrokami.png
0
0
Electro Kami Staff
https://electrokami.com/wp-content/uploads/2018/01/electrokami.png
Electro Kami Staff
2013-08-13 09:05:35
2018-08-26 21:13:43
FireFox OS Phone Challenges iOS and Android With $80 Price Tag