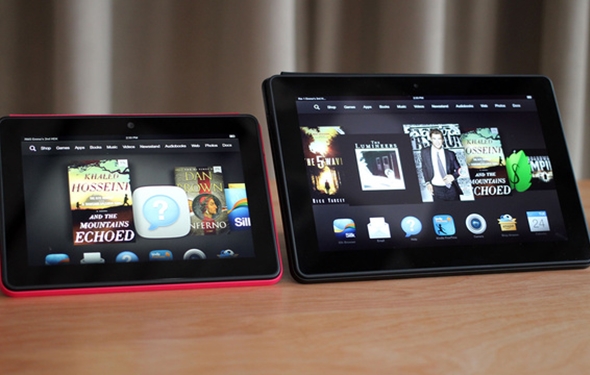 It now seems as if the Kindle might pose a real threat to the iPad. It is crazy to consider, but Amazon's latest Kindle, the Fire HDX, is a device that can do it all. This device, which Amazon says goes "beyond HD" comes in two sizes: a 7-inch and an 8.9-inch display. So let's take a look at these two devices and see what makes them so great.
First, let's talk about the display. The Fire HDX offers a reduced-glare screen. This screen also features improved brightness and great image contrast to make it easier to see no matter what light you are reading in. All in all, the Fire HDX gives you picture quality like you have never seen before on a tablet device.
The Fire HDX runs on the super-fast quad-core Snapdragoon 800 processor. This Snapdragon is running at 2.2 GHz. To put this into prospective for those of you who do not understand these kinds of stats, the Fire HDX has three times the processing power of the Fire HD. You are not just getting an upgrade in display; you are getting an upgrade in power. The Fire HDX also has twice the memory of the Fire HD and runs the Adreno 330 graphics engine. This is enough to allow you to experience HD gaming on the Fire HDX.
Just because it has all of this extra stuff, does not mean that the Fire HDX weighs a lot more. In fact, the Fire HDX is said to be close to 35 percent lighter than the Fire HD. This makes it the prefect device to carry around with you all the time. It also features an HD front-facing camera, allowing you to use Skype. The tablet has a rear-facing camera that can record in 1080p HD. Keep in mind that if you buy the 7-inch Fire HDX, you only get a front-facing camera.
So with all of these features, the battery life has to be crap, right? Well, according to Amazon, both devices have 11-hour battery lives, which is based on using the tablet for more than just reading. If you are just going to read on the Fire HDX, you can expect a battery life of up to 17 hours. Of course, with Dolby Digital Plus audio and the ability to enjoy a 4G wireless connection, you will be doing a lot more on this thing than just reading.
These devices run on the newest Amazon Fire OS operating system. The Fire OS is based mostly on the Android Jelly Bean operating system. So those who are used to Android should feel right at home. The Fire OS does have a different feel, however, because it has a custom Amazon interface built in.
One cool feature with the Fire HDX is the new MayDay Button. This button, once pressed, will bring up a video chat with a tech-support representative from Amazon. This representative will be able to work with you to fix your device if something is not working right. The Fire HDX also has something called "X-Ray for Music." In short, when a song starts playing on your device, this service will automatically start streaming the lyrics across the screen. You have access to touch-screen playback controls as well.
So the question is, "How much does this device set you back?" You can pick up the 7-inch Kindle Fire HDX for $229. This is a great price considering how much the iPad costs. The 8.9-inch Kindle Fire HDX is a bit more expensive at $379. You can get a 4G version of the 7-inch tablet for $329 or a 4G version of the 8.9-inch tablet for $479. Both devices will be launched this year.
https://electrokami.com/wp-content/uploads/2018/01/electrokami.png
0
0
Electro Kami Staff
https://electrokami.com/wp-content/uploads/2018/01/electrokami.png
Electro Kami Staff
2013-09-26 08:39:04
2018-08-26 21:13:43
Amazon Kindle Fire HDX Overview