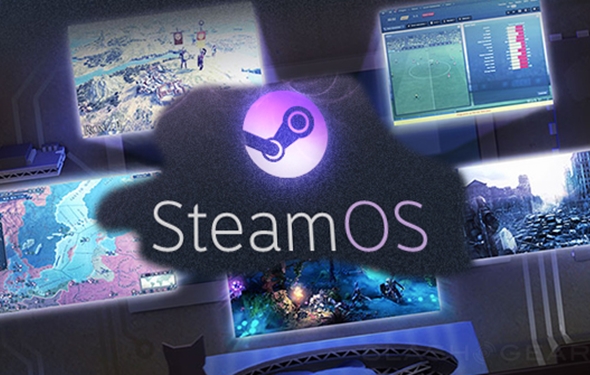 When it comes to PC gaming, few services are as well-known as Steam. Valve has had massive success with Steam so far, but it is not satisfied with that. Sure, it has won over the hearts of PC gamers around the world, but what about console gamers? Better yet, where does Steam go from here to keep from reaching its limits? The best bet for Steam is to somehow win over the hearts of console gamers, and the only way to do that is to release a Steam system to take over your living room.
Valve has taken its first step toward that goal with SteamOS. This is a Linux-based operating system that is being designed specifically for televisions and not computers. This, of course, has everyone believing that the announcement of the Steam-based console is not that far behind. If it can release a cheap enough dedicated system for Steam and put a controller in people's hands, the service has a chance to win over console gamers as well.
On the SteamOS official webpage, Valve says that it has been working really hard to bring Steam to the living room. The best way to get the experience of Steam to more consumers is to build an operating system around Steam itself. By taking the architecture of Linux, SteamOS is able to bring Steam to the big screen like never before. This is an operating system that will soon be available to purchase as a free, stand-alone operating system for living room machines.
What this means is that the software itself, SteamOS, is going to be free. Now the question is, "How much is a SteamOS console going to cost?" We already expect there to be a Steam Box being developed by Valve. However, at this point, these are still rumors. With SteamOS being free, third-party companies will likely come up with their own consoles. At this point, however, it is not known how much such a console will cost. On top of this, SteamOS will benefit big time from Valve releasing its own console instead of counting on third-party companies to do it.
One thing is for sure, the founder and CEO of Valve, Gabe Newell, has been extremely vocal about getting Steam into living rooms. If it wants its business to continue to grow, it has to go after a new audience, and that is the audience that does not traditionally game on their PCs. This is the audience that prefers to sit back on their couch with a controller to play games. These are the people who are not going to go out and buy a $1,000 computer to play PC games. They want a dedicated console, and if Steam can be on such a console, it can earn a spot on entertainment centers around the world.
A Steam Box may never be able to replace home consoles. With companies like Nintendo featuring their own games that simply cannot be purchased on computers, they will continue to win over the hearts of gamers. However, if a Steam Box or something like it comes out at a low price point, it may be able to earn a spot next to these traditional consoles. Right now is not the time to look to replace traditional consoles but to work beside them, and the best way to do that is to find the right price point.
https://electrokami.com/wp-content/uploads/2018/01/electrokami.png
0
0
Electro Kami Staff
https://electrokami.com/wp-content/uploads/2018/01/electrokami.png
Electro Kami Staff
2013-09-30 09:29:37
2018-08-26 21:14:42
SteamOS to Take Over Your Living Room