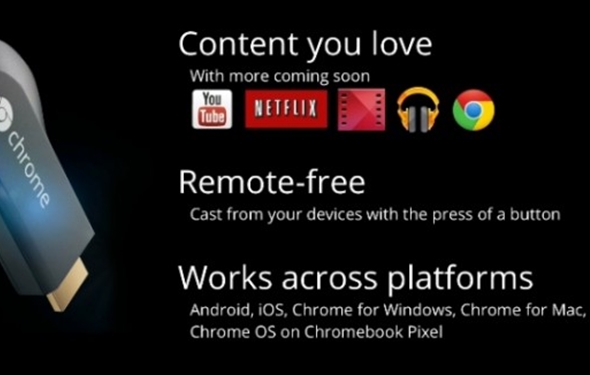 Google has tried in the past to make its way onto your TV set. Unfortunately, these previous attempts have all ended in failure. In short, they simply were not a commercial success. Now, however, Google has taken a low-cost approach to get its new dongle into every home in America.
This new dongle is called Chromecast. It is able to stream video from your computer or smartphone right to your TV. The dongle plugs into your TV via your HDMI port on your TV. In short, this dongle is supposed to bring the functionality similar to Apple's Airplay to Android devices.
So why does Google think people will buy Chromecast over other alternatives? Apparently this is due to the low price point of Chromecast. Instead of charging between $50 and $100 like Apple TV and Roku, Chromecast is only going to cost $35. Google is also giving away three free months of Netflix when you buy a Chromecast. This offer is good for both existing and new subscribers. This is a $24 value, which effectively brings the cost of the dongle to just $11.
The good news about Chromecast does not stop there. Google has said that you will not have to wait long to get your hands on one. Apparently it will be available for purchase starting Sunday, July 28. You can buy it from a number of online stores, including Google Play and Amazon.
Of course, Chromecast is not perfect. Although there are not many reviews out yet on this little dongle, the biggest complaint that people have so far is the power source. Unfortunately, this little dongle does not pull power from the HDMI port but actually has to be charged, which can be done via a micro USB port. If your TV has a USB port on it, however, you could effectively draw power from that.
Setting up the Chromecast is about as easy as it comes. Simply plug it into an HDMI port on your TV, and switch to that source on your TV. After that, simply follow the onscreen setup screen provided by Chromecast. After that, you need to install software on your computer and smartphone so you can stream video to the dongle. The smartphone app can be found on the Google Play store, and the computer software can be found for free from Google's Chromecast store.
For the price, it is hard to beat Chromecast and what it allows you to do. Right now, Chromecast does not work with iPhone. Shockingly, however, it does work with Mac. There is a special Mac installer that will allow you to install and launch the software you need to stream to your Chromecast.
https://electrokami.com/wp-content/uploads/2018/01/electrokami.png
0
0
Electro Kami Staff
https://electrokami.com/wp-content/uploads/2018/01/electrokami.png
Electro Kami Staff
2013-07-26 06:51:39
2018-08-26 21:13:43
Google Looks to Challenge Apple TV with Cheaper Alternative, Chromecast